Snapchat Update: Fun or Dumb?
How fun is the snapchat update, really? This new update features the same filters as before, but now there are also filters that can morph people's face to different emotions or characters, including huge eyes while vomiting a rainbow; crumbs falling out of your mouth, and even a horror filter that turns you into a monster. A filter that has lead to a viral video of parents teasing their young children using it.
By tapping on the screen when on front camera, it will focus on the person's face outlining the eyes and mouth, giving it the ability to adjust to the movement of facial expressions. Some love this feature, and others find it irritating. Carolina Oliva says she loves the new update because "it can cover your face when you look ugly." On the other hand, Stefanie Tanase thinks the new update is dumb because, "it is a waste of time and really has no purpose to it". Others find the update just difficult to use. If you are one of those people don't worry! Here are the steps courtesy of al.com :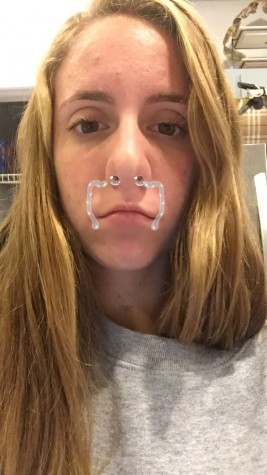 Step 1: Get your Snapchat app updated. Visit the app store, hit updates from the bottom right, and presto.
Step 2: Now, go to settings on your snapchat app home screen and turn "filters on."
Step 3:  "Open the latest version of the app and make sure your front facing-camera is active. Now long press the screen on your face to load the lenses. You can scroll horizontally through them and for most you'll need to follow an instruction for it to work properly such as opening your mouth or raising your eyebrows," reports PC Advisor.
Step 4: Get your selfie face on. Yes, Snapchat's new lenses are available only for selfies, so even though they will make you look crazy, it WILL be you and only you looking crazy. So, be prepared to share you in all your splendor.
Overall most people find the update fun to use and entertaining: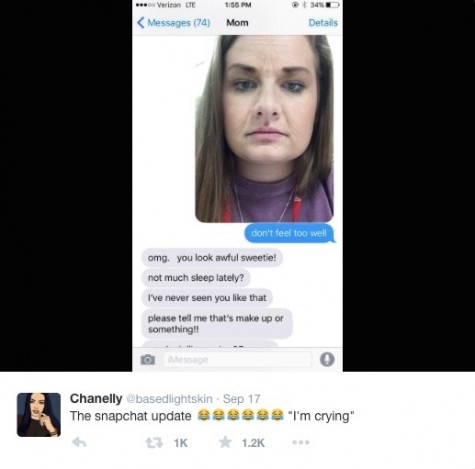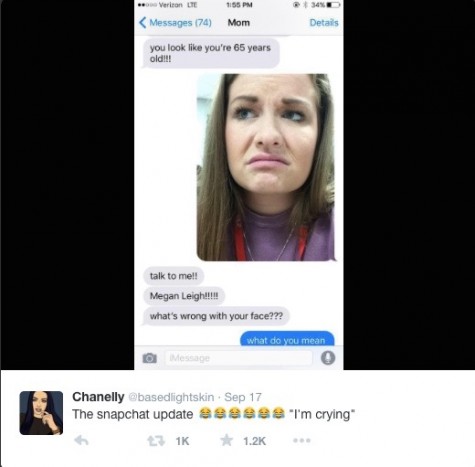 Another feature on the update is it does not show how many seconds a person's story is. Most people like this because then they can't be judged for the length of their stories. Others don't like it because then they can't tell how much longer someone's story is when watching it.

Overall all the update is found to be fun, and creates a more animated way for users to express emotions, such as happy or sad. It also hides the time of stories, which people also enjoy because it makes things less "stressful."  All the new features intending to create more personal fun snapchats has done just that so far for just about everyone. Those who don't enjoy it still have the option to just use the old features. This gives opportunity for all snappers to use what they enjoy on the app.