Christmas Formal Essentials
Christmas Formal is right around the corner and there are so many things to do to get prepared. To start off the Christmas Formal process you have to begin with finding a date. Finding a date is only as hard as  you make it. It is so much better to go with a friend rather than going with someone you do not know, so find someone from middle school or a guy you just love to be around. Those guys make the best dates! The next thing to do is find a way to ask him. It is always good to be creative when you ask guys and Academy girls always come up with the best ideas. Gillian Anthony said, "Each year I have come up with the best ideas to ask someone to formal because it makes it so fun."  You never want to ask a guy over text or over the phone. As a freshman Maddie Matesich asked someone over text, "it was the worst thing I could have done. They did not know if I was being serious or not. He eventually ended up saying yes, but the whole experience was so awkward." It is nice to make the proposal personable to your date and it makes the experience that much better.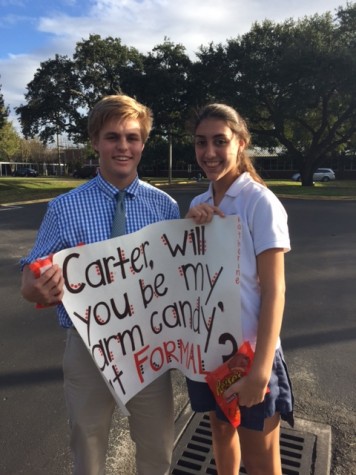 Once you have found the date of your dreams, it is time for the dress. The dress is one of the most fun, stressful, and important parts of formal. Girls get to feel like Cinderella for the night in their long gowns getting whisked away to the ball. Before all that fun can happen, you have to find it first. Some people have great luck with finding dress, and some girls have a hard time. Olivia Valdes thinks that, "the best places to shop are online at Revolve, Tobi, and Asos. If you want to shop at the mall Nordstrom and Dillards." Borrowing dresses is also a great option because not many girls are ever going to wear these dresses again. It gets multiple uses out of it, and you are helping your sister out.
Makeup and hair appointments are important, but not essential. Many girls book appointments weeks in advance, many just do it themselves. Jaime Jurado does her own hair and makeup for almost every dance, "It is so much easier because I do not have to stress about appointment times and I can do everything on my own schedule." Although more expensive, having someone do your hair and makeup adds on to the experience. The girls get treated even more like princesses when getting dressed up for events.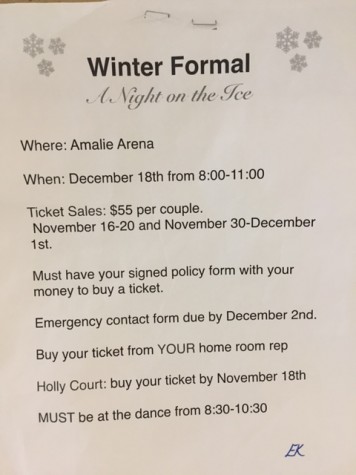 Finding groups, making dinner reservations, and after parties are small things that can get girls very stressed out. With exams around the same time as formal, girls are constantly on edge so it is important to plan these things in advance. Restaurants get booked fast so the sooner that you make your reservation the better. Places like Jackson's, Seasons 52, or Koto's are good places that can accommodate to a big group. It is always important to never exclude anyone from groups, or else it takes the fun out of it. The more the merrier. Having all your friends around for pictures and seeing everyone dressed up makes the night that more fun.
Christmas Formal is a night filled with fun and excitement. Buy your tickets for formal through November 16-20 if you want to be on Holly Court and if not you can also buy them through November 30-December 1st. This year, to top it all of, Christmas Formal is going to be held at the Amalie Arena.