Hoverboards: Worth the Hype?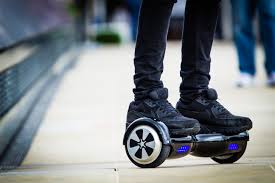 It's safe to say that hoverboards were most definitely THE gift of Christmas 2015 – it seemed like everywhere you looked, someone was either riding one or falling off one. The Internet quickly exploded with hundreds of videos of people of all ages hilariously dismounting off these two-wheeled scooters, priests giving homilies on them, and celebrities getting arrested for riding them in public. So, what is with these boards and why have so many people wished for a hoverboard at the top of their Christmas lists?
"I got a hoverboard for Christmas and I've been obsessed with it! I really wanted one because I thought they looked really cool and everyone had one, but it took me awhile to get the hang of it. I fell off a couple times, but after some practice I basically became the master of hoverboarding and I can do all kinds of tricks on it now!" recalls senior Rebecca Castellano. Another senior, Rylee Johnson agrees and says, "I ride my hoverboard everywhere! I usually ride it around my house, but sometimes I take it to the mall. I wanted one because I felt cool riding one and I like not having to walk."
Hoverboards have gotten so popular, in fact, that many college campuses have strictly banned them from their campuses, for multiple reasons. The Consumer Product Safety Commission has reported 28 fires across 19 states in the US, and many believe were started from the hoverboards' lithium ion batteries when they charged. Deans of colleges have decided it is far too dangerous to have possibly flammable items being stored in dorms that could result in a residence hall burning down. A few schools that have enforced the hoverboard ban are Georgetown University, George Washington University, American University, Louisiana State University, University of Iowa, University of Arkansas, and Ohio State University. About half have banned them only from dorms, and the other half from the entire campus.
Airlines have also followed suit in prohibiting passengers from bringing hoverboards aboard their planes or in their check or carry on luggage, in case of fire. As of now, Delta, United, American Airlines, Southwest, and Jetblue have completely banned hoverboards.
They aren't cheap either! Most boards range from $400 and above! Basically any online tech store sells them, but there are also many places in the mall where they are sold. Some Academy girls agree with the opposing opinion of hoverboards, like sophomore Gracie Wipfli. "I used to think hoverboards were the coolest new thing when everyone started getting them, but now after hearing that they catch on fire, I definitely don't think they are worth the money or the hype." Johnson disagrees, saying, "Honestly hoverboards are very expensive. I don't think they are worth the money, but definitely worth the hype."
Along with hoverboards being extremely flammable, they are also super dangerous to ride, and falling off one could result in some pretty rough injuries! Junior Danielle Gutierrez reveals that she fell off a hoverboard a few times, "I never really got the hang of riding one, and ended up with a ton of bruises!" The Consumer Product Safety Commission has reported 30 emergency room visits related to hoverboard accidents during the week after Christmas.
As there is with anything, there are definitely clear pro's and con's to purchasing and riding a hoverboard. As long as people are using them safely, hoverboards prove to be a fun and new way to get around!