AHN Girls Tackle Gasparilla Distance Classic 2016
Even though all the pirate extravaganzas and parades are over, Gasparilla still lives on, even all the way until February. The Gasparilla Distance Classic features four different races – 5K, 8K, 15K, and a Half Marathon – for the community of Tampa to participate in to keep the annual celebration of Gasparilla going.
This year, the pirate-themed races took place on Saturday, February 20 and Sunday, February 21 in the early morning. On Saturday, the 15K race kicked off the day at 6:40 AM, with the 5K and 8K starting soon after. On Sunday, the Half Marathon began in the early morning, kicking off around about 6:00 AM.
Among the many racers this past weekend were some of our own Academy girls, who were determined and motivated to complete their individual races on Saturday morning. Senior Camille Yodzis ran the 15K (9.3 miles) and Senior Morgan Davey ran the 5K (3.1 miles).
Yodzis explains, "I ran the race this year because my family always does it together, so it kind of becomes a fun competition between us."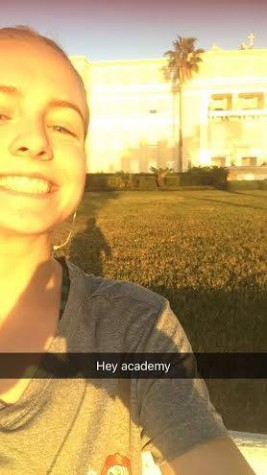 Davey says, "I ran the 5K this year because I've always wanted to participate in one of the Gasparilla races, and thought this year would be the perfect time!"
Any runner would know that long distance races take a lot of endurance to push through, especially for the 15K and Half Marathon runners. Nonetheless, Yodzis and Davey both fought to the finish and completed their races on Saturday.
On race day, Yodzis recalls, "During the race I felt pretty energetic because of a gel packet I ate the morning of. It gave me energy to finish. Lacrosse also really helped me get in shape for the 15K! After I crossed the finish line, I was so happy it was over and really excited that I made a new personal best!"
Of her race day, Davey remembers, "I felt great during my race, and I definitely wasn't as tired as I thought I would be! After I crossed the finish line, though, I was extremely happy it was over. I was also very pleased with my time, which made the experience all the better!"
All in all, the 2016 Gasparilla Distance Classic proved to be a successful race, with more than 12,000 runners and walkers competing in the spirit of Gasparilla.