'Damn, Daniel' sensation has broken the Internet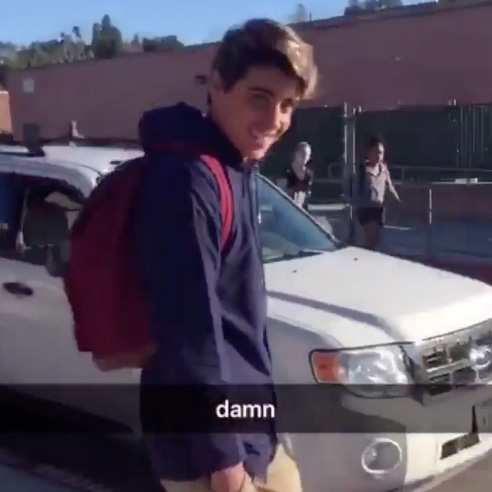 Pia Roca, Senior Staff Writer
March 2, 2016
In less than a week a new sensation has taken hold of the Internet. Damn Daniel is a trending video, made of a series of Snapchat stories, that begins with a boy saying "Damn, Daniel" in a strange voice while complimenting high school freshman, Daniel Lara on his outfits. The Snapchat stories were taken over a course of five days in various places among the boys school. The video first became popular over Twitter with over 342,000 retweets and from then has been featured in articles by Buzzfeed, the Guardian, the Huffington Post, and has become the subject of many memes. The video has been viewed over 45 million times.
Damn Daniel pic.twitter.com/Va10hmpePO

— josh (@Josholzz) February 16, 2016
Daniel Lara and Josh Holz, from Riverside Poly High School, have become instant celebrities and were featured on The Ellen Show a couple days after the video went viral.
On Ellen, the creator of the video, Josh Holz, stated that "It was just out of nowhere, I came up to Daniel after school and was like 'Damn, Daniel' and posted it on my story and everyone started to love it."
Daniel Lara was awarded a lifetime supply of white vans and Holz was given a surfboard for their time spent on the show.
Academy girls hold many different opinions about the video sensation. Some believe that it is hilarious and others, not so much:
Sophomore Gretchen Swenson laughs every time someone brings up "Damn, Daniel." She stated," I feel like everyone has to repeat the phrase over and over again for a couple of minutes because it's so catchy."
Senior Remi Storch muses, "It was funny at first but now not so much. It has been repeated too many times."
Shortly after their interview with Ellen, the two boys video were featured in a song on Soundcloud that has since had over 139,000 hits.
https://soundcloud.com/crawfordcollins/crawford-collins-damn-daniel
The week-long Internet sensation has seemingly dwindled down within the past week, but it's phrase 'Damn, Daniel' will continue to be remembered.