Need Something to do on the Weekend?
Places to Adventure not too far from Home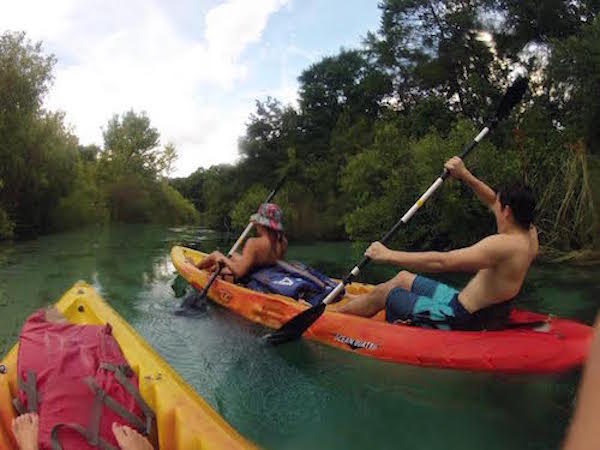 There are so many great things to do in Florida, that most of us Floridians don't even think of. How many times have you sat at home trying to think of something to do?  There are a lot of well known places to go such as Disney World, Universal, Magic Kingdom and Kennedy Space Center, but there are also a lot of forgotten about attractions in this great state. A great deal of the places you can adventure have to do with water. Not just the beautiful beaches, but the springs, rivers, and natural parks.
Some places not too far from Tampa include:
Honeymoon Island State Park: "one of the few remaining virgin slash pine forests in South Florida. The park boasts several nature trails and bird observation areas. Visitors can swim, fish, and snorkel in the warm waters of the Gulf or picnic while they enjoy the beautiful scenery."
Sunny and 73° on Honeymoon Island, Florida. Sorry for sharing, Western New Yorkers! pic.twitter.com/gd4ktyiR7b

— beverly gushue (@bevgushue) February 16, 2016
Weeki Wachee Springs State Park: Here you can rent paddle boards or canoes and travel down the river, or take a different route to the hiking trail with cliffs and beautiful springs.
No caption needed #LoveFL #WeekiWachee pic.twitter.com/RmvRj8psUs

— Kenny Gibson (@KGibsonTV9) April 9, 2016
Rainbow Springs State Park: "Archaeological evidence indicates that people have been using this spring for nearly 10,000 years. Rainbow Springs is Florida's fourth largest spring and, from the 1930s through the 1970s, was the site of a popular, privately-owned attraction. The Rainbow River is popular for swimming, snorkeling, canoeing, and kayaking. Canoes and kayaks can be rented at the headsprings. A picnic area at the spring includes tables, grills, and pavilions. For large gatherings, private pavilions can be reserved. "
Dive in! Tubing the Rainbow River https://t.co/UFUMfuXZzK pic.twitter.com/Bc4hNhPElY

— VISIT FLORIDA (@VISITFLORIDA) April 9, 2016
Tampa Riverwalk: The Tampa riverwalk has been restored and has become a major attraction in Tampa: "The City of Tampa is transforming the downtown landscape, opening public access to Tampa's lovely waterfront and linking five museums, seven parks and numerous hotels, restaurants and outdoor gathering places. "
Our @tampariverwalk isn't just beautiful, it has great benefits for our community as well. https://t.co/BM5zruMaOj pic.twitter.com/IfRoaByR93

— Visit Tampa Bay (@VisitTampaBay) April 4, 2016
Busch Gardens: Busch Gardens doubles as an amusement park and a zoo. There are many large and new roller coasters as well as an exhibition of exotic animals.
RT if you're excited for @therejects @BuschGardens today! Some of the band on #FalconsFury in 2014 #CorksandCoasters pic.twitter.com/bPcW4XrnUe

— Bill @ Pixels (@androckb) April 10, 2016
Dali Museum: "The Dali Museum shares an expertly curated collection of Salvador Dali works to delight and educate our visitors and provide unique inspiration for events, programs and special exhibits that allow us to serve as an active resource in the cultural life of our community and the world at large."
On this day In 1621, the Mayflower began its return trip to England. #SalvadorDali pic.twitter.com/FImryMiBRM

— The Dalí Museum (@TheDali) April 5, 2016
As you can see, there are a plethora of fun, adventurous things to do around Florida's Gulf Coast and Tampa! The variety of thrill-seeking activities are endless and much enjoyed by many Floridians.