Feels during a Timed Writing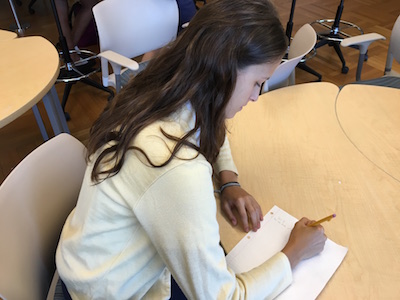 Timed Writing: the fear of every Academy girl. At least once a quarter everyone experiences the terror that is a timed writing. The mental rollercoaster of a these essays is a common thread among students.
Junior Mia Torrez states,"Timed writing makes me feel pressured, and stressed all day."
While timed writing is implemented in every English class at Academy, upperclassmen taking AP Language and Composition or AP Literature are constantly reminded how important in class essays are. With half of the AP exam composed of timed writing, mastering this task is the key to passing the exam.
1.You walk into the classroom nervous but ready to kill this essay. I'M READY I'M READY I'M READY!
2.You first get the prompt and start. Thinking to yourself, "Wait…am I ready?", "When did we learning this?", "What even is this?"
3. You tell yourself to take a deep breath, and you will be fine.
4. You ferociously start outlining, writing down random quotes.
5. Finally, starting the paper you begin the introduction. You think to yourself this is not too bad.
6. Your first brain fart begins, "Why can I not think of that word?"
7. The girl next you puts her pen down, and you start freaking out. You start to think, "Is she really already done? Should I be done?"
8. Next thing you know, your hand is cramping up from grasping the pen, and you feel like you physically cannot write any more.
9.The teacher says, "ten minutes left," and you realize you have only written two paragraphs and begin the speed writing.
10.The time ticking seems to make your brain stop working. "Did i really just spell "theme" wrong?"
11. At last you are done writing. Starting to read over your essay, you realize it is awful.
12. "Time is up." Putting your pen down, you know you tried your best. Exhausted, you hope your teacher will like your essay.