Fans struggle to find affordable Taylor Swift tickets
Along with a large amount of our high school, thousands of people were overjoyed when Taylor Swift announced The Eras Tour she would soon be starting, and it was of paramount importance that her fans went to this monumental, once-in-a-lifetime concert. Fans raced to Ticket Master to secure tickets as fast as possible.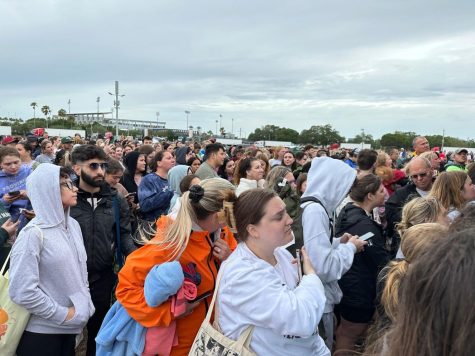 Ticket Master was the main platform that was selling Taylor Swift tickets, and it was later seen that they were not prepared for the high demand, quick sales, and inventory shortage that was to come. 
The difficulty to get tickets and the rising costs for each one caused disappointment in both Swift's passionate fans and Taylor herself. Taylor responded to the complications on Instagram by posting a story expressing her letdown by Ticket Master, and apologizing to her fans about their difficulty getting tickets. She explained her hope to "provide more opportunities for us to all get together and sing these songs".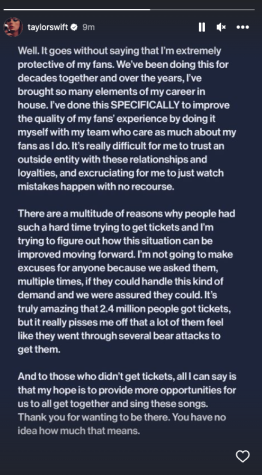 With this pressure, Ticket Master later announced their intention to better their system to make it easier for fans to access tickets in the future. According to ABC news, Ticket Master stated that "While it's impossible for everyone to get tickets to these shows, we know we can do more to improve the experience and that's what we're focused on".
Senior Alana Young is a big Taylor Swift fan and has been since she could remember. After waiting five years for her to go on tour again since her 2018 Reputation tour, Young said "I've never been this excited for a concert before". 
Alana Young and her parents went to find tickets online and were not so excited after what they saw. The tickets that were available were priced up to one thousand dollars. "It was so upsetting because I honestly thought that I wasn't going to get the chance to go to the concert and I knew this was my only opportunity to experience something like this," Young says. 
Fortunately, Young and her parent were able to find affordable tickets, but it was not easy for them. It took many months and lots of searching, but according to Young, "seeing her in concert will make all of the trouble worth it".