Mariah Diaz earns her wings
When most AHN girls think of flying, they think of long rides on commercial airlines. Their biggest worry is whether they are going to get a good seat on the plane, or if they have enough movies downloaded on their laptop to make it through the flight. But for AHN senior Mariah Diaz, flying means piloting her own plane.
Mariah is working toward receiving her pilot's license. She is currently doing her training at Peter O'Knight Airport on Davis Island, where she is learning from local flying instructors.
She started taking lessons in late June after flying with her friend's dad, who is a pilot and owns his own plane. She had always been interested in learning to fly, and after flying with Mr. Ayers, she felt now was the time to learn. Mariah's parents were supportive of her interest, but also scared for her safety, so "…it took a little convincing," she says.
Mariah has already soloed, and cross-country soloed which means that she is almost done with her training, and she only has to pass her written test and her final flight. Mariah usually flies a Cessna 172 around the Peter O'Knight Airport, and the Tampa Bay area, going as far as Punta Gorda.
She loves learning new things and says she, "can't wait to get my pilot's license and do this all on my own."
Mariah plans on continuing her interest in flying through the rest of her life. "I plan on buying my own plane, but they are really expensive so that could take a while." Her favorite thing about flying is the challenge. "I like conquering my fear, I like knowing I am in control, and, honestly, I like the view."
Congratulations to Mariah for coming this far in earning her pilot's license!
Leave a Comment
About the Contributor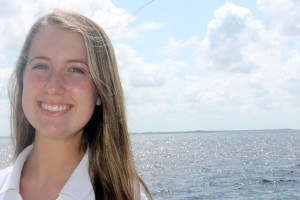 Lauren Ayers, Senior Staff writer
This is Lauren Ayers's first year as a part of Achona. Lauren is a member of the swim team and president of Spanish club. On the weekends she enjoys eating...