Spirit Week Pep-Rally Finish's Off Another Great Catholic Schools Week
Every Academy girl knows of the famous annual spirit week pep rally that finishes off a great Catholic Schools Week. The pep rally is filled with singing, dancing, chants and costumes that will knock your socks off.
It starts off with little acts performed by each grade which all have to do with problems freshman stress about, including, first day of school, first football game, night of the rivals game and getting asked to homecoming. The seniors had a humorous performance on typical examples of girls getting asked to homecoming for each grade level, which added 200 points added to their score to put them in the lead.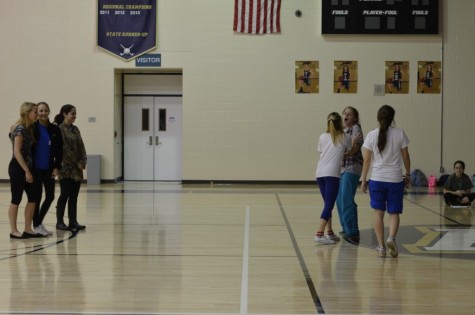 Senior and pep rally coordinator Cara Dawson shared "We've kind of always done the same thing to truly carry on the great tradition of spirit week. It's always a great rivalry between grades."
Then it goes into singing and dance rivalries between each grade.  This intense challenge keeps every girls on their toes and gives the girls a chance to show off their sweet moves to add points to their scores. It's a classic fill in the lyrics to 'Friday' by Rebecca Black and an interpretive dance to 'Single Ladies' by Beyonce.  The winner from each grade gets 10 points added to their final score.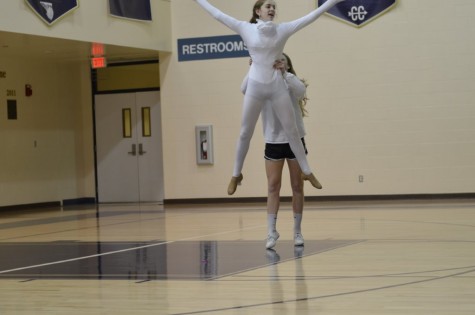 "Honestly dancing in front of the whole school doesn't bother me at all, I always have so much fun doing it. It was awesome having everyone cheering for me and I knew everyone had my back."  Junior Alejandra Lozano shared. "My favorite part of the pep-rally would have to be the dance off because it was fun to watch all of my friends act crazy in front of the other grades." Added sophomore Sophia Mastro
At the end points are added up by judges Ms. Filocco, Mrs. Kearney and Mrs. Nazaretian.  It was a close race between all grades. The final scores came out to the Freshman with 1240 points, Juniors with 1170 points, Sophomores with 1370 points,  and the winners, the seniors, with a total of 1530 points!!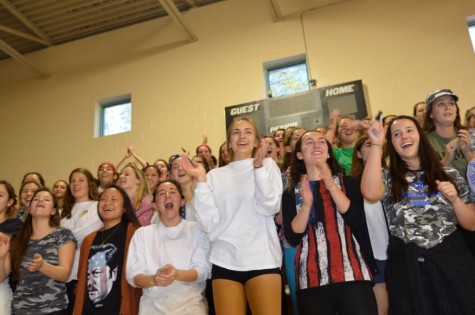 So congratulations to the Seniors for taking away first place with a score of 1530.  A special thanks to Golden Girls Cara Dawson, Colleen Doherty and all of the golden girl spirit week committee for putting on a great Catholic Schools Week filled with fun and laughter for each grade.