2015 Fall Blood Drive
The fall blood drive is here once again. On Friday, November 13, girls who are 16 or older are getting ready to give their blood to help save lives.
Senior and Interact Club president, Sajani Mantri, explains why the blood drive is so important to the Academy:
"We host the blood drive at AHN, so girls are able to donate blood comfortably. The girls are also aware of how to prepare for donating blood, like being healthy and eating right. Having a good experience while donating blood is important. This leads the girls into becoming lifelong donors. Through donating at school, girls are motivated to donate blood when they leave high school. We are able to save so many lives and help those in need through the blood drive at AHN."
Junior Danielle Gutierrez donated blood, for the second time, this year. Although she felt a little weak after donating, she shares that she will definitely keep donate and loves helping out. Senior Avery Stanechewski, agrees with Gutierrez. When asked, Stanechewski explained she was very nervous, but said it didn't hurt as bad as she imagined. Like Gutierrez, she felt a little lightheaded and laid down in the board room, but most definitely is going to start donating annually.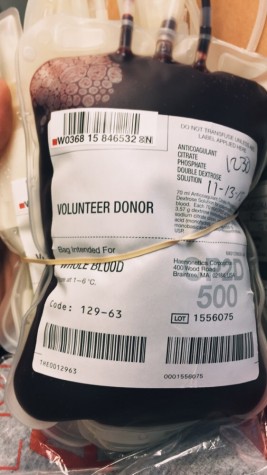 Along with donating their blood, girls received a t-shirt and snacks from the Moms Club. Mantri exclaimed, "We had a really great turn out this year, I'm so proud of all of the girls who donated!"
Great Job ladies!!