Rho Kappa helps our fellow sisters across the sea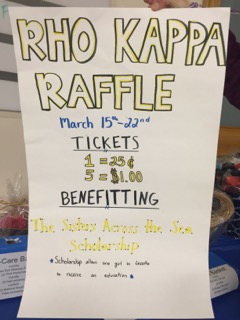 AHN's Rho Kappa Honor Society is selling tickets during March 15-22 for its first annual raffle. The name drawing will take place on Wednesday, March 22 during lunch. AHN seniors Amelia Llerena, Bailey Piboolnuruk, and Julia DiFabrizio came up with the idea to have a Rho Kappa raffle and the three are running it. All of the money that has been raised from ticket sales, and donated by Rho Kappa members, will go directly towards the "Sisters Across the Sea" Scholarship.
The goal of the raffle and the Sisters Across the Sea Scholarship is to send a girl to high school in Lesotho and ensure she would be able to attend four full years of high school.
Julia shared, "To send a girl to one year of high school cost $400 including tuition, uniforms, supplies, and room and board. Each year Rho Kappa would raise the money necessary to continue the scholarship so each grade could sponsor a girl for four years." 
DiFabrizio was very proud and touched by all of the hard work the members put into the raffle. She continued to say, that "All of the girls in Rho Kappa have participated in planning and creating the scholarship by either donating a specific item for a basket, a gift card, or $10 which goes directly towards the scholarship itself. We are so proud of the outcome of the raffle."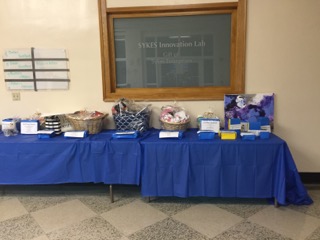 Llerena commented , "My favorite thing has definitely been being able to help a girl at our sister school through the raffle, and my favorite thing about the raffle has been how much help we've gotten from every girl in the club. Everyone has pitched in either directly towards the scholarship or with creating a basket, so it's been fun working with everyone!"
The items being raffled off include a spa basket, beach basket, self-care basket, coffee basket, movie basket, gift cards to the Look, Moe's, and Chick-fil-a, and homework passes from different teachers like Ms. Mikos, Dr. O, Mrs. Nazaretian, and Mrs. Kearney.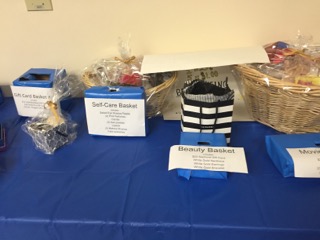 AHN girls and faculty members, remember to help your Lesotho sisters by purchasing your raffle tickets and entering for a chance to win an item. Good luck!
UPDATE: The raffle drawing has been changed to Tuesday, March 22 during lunch.