Seniors Say Goodbye to Uniforms
After the conclusion of this year, Seniors will be giving up more than just high school; they will be giving up the comfort of a uniform. For the past four years, while other high school students across the nation worry about what outfit they'll want to wear to school, Academy seniors have spent their mornings worry free.
The mental ease of a uniform allows girls to quickly dress in the morning and devotes less time to worry about clothes and more to what's going on in school. Students never have to spend time thinking about whether or not they look good because everyone looks exactly the same. The absence of boys also adds to the benefit of having a uniform, which diminishes the desire to impress.
"It literally takes like two minutes to get ready, because I just have to put on my shirt and skirt so it is just really easy," Senior Camille Yodzis states.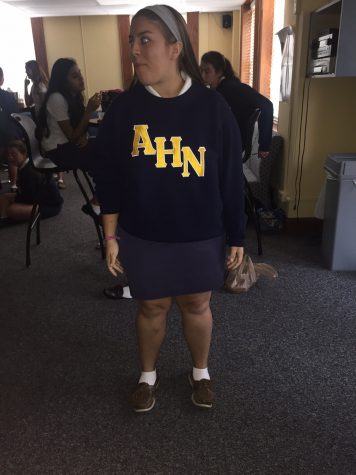 College now is a chance for Academy seniors to choose now what they'll wear as they start over in a new place. Whether they choose that it will be just a t-shirt and nike shorts, or maybe something more dressed up, it still a decision to make and a departure from the norm of a polo shirt and skirt or pants. For many seniors, this coming new school year is the first time they will be at school with new people and have to make first impressions. It's important to think about this turning point in any senior's life.
Senior Giorgia Flanagan plans on dressing comfortable stating, "I am going to wear probably just plain tshirts and comfortable pants in college. I might invest in a pair of pajama jeans."
Senior Alma Torres adds, "I personally think my uniform is super comfortable so I'm probably not as excited as other people. I'm not looking forward to having to choose my own clothes in college so I hope to keep wearing my uniform as much as I can."
With the wrapping up of the school year, Seniors will reflect on their high school experience and look back on their years. While uniforms may have seemed like a nuisance at first, it definitely has a special place in any Academy girl's heart.