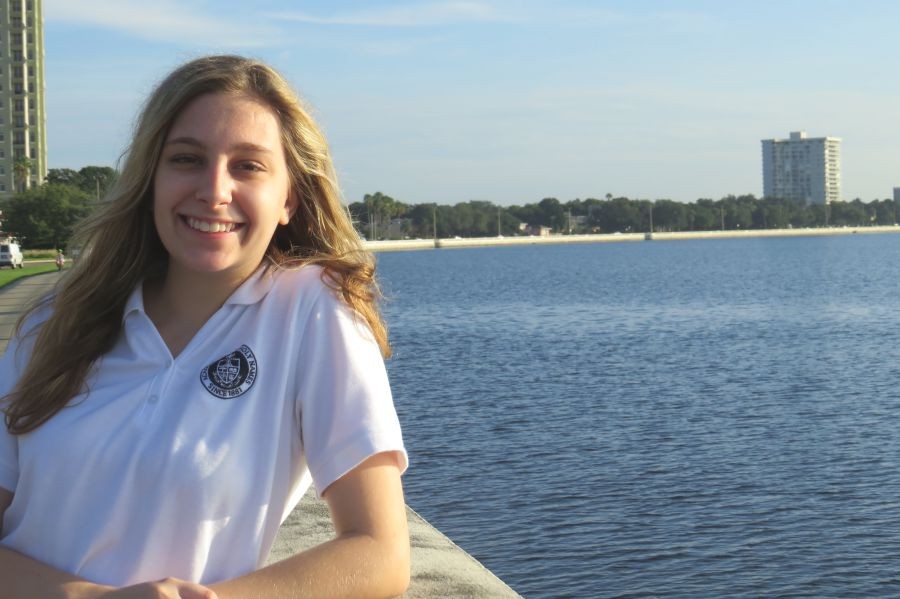 Grace Baxter is a senior at Academy of the Holy Names and this is her first year here. She is an achona senior staff writer, and a first-year journalist. Her previous high school was Bob Jones High School in Madison, Alabama and she was involved in the Environmental Club there. She is very excited to meet new people and learn the ways of Academy this upcoming year. Since Baxter is new, she has had little time to become involved within the school. However, her favorite school subject is English. Out of school she enjoys shopping (her favorite store:
Mod Cloth
), and getting involved in politics (in fact, she did an internship at the U.S. Senate Page Program). Baxter explains that the reason she became passionate about politics is because she loves government and believes they can improve to do more good for the community. She enjoys 80's movies such as
Ferris Bueller's Day Off,
Say Anything
, and
The Breakfast Club
. Something interesting about her: she is the youngest of five and she has lived in five different states. Baxter aspires to go to Auburn University and, later on, make a career as a staff member on Capitol Hill.
Favorite Song:
Grace Baxter, Senior Staff Writer
May 12, 2016

Teachers vs Students: The Last Month of School

(Story)

May 11, 2016

Graduations Around the World

(Story)

Apr 25, 2016

Seniors Say Goodbye to Uniforms

(Story)

Apr 19, 2016

Top Conspiracy Stories

(Story)

Apr 11, 2016

Zayn Malik: What's Happened In the Last Year?

(Story)

Mar 23, 2016

A Study: Donald Trump and A Cheese Puff

(Story)

Feb 26, 2016

My Experience Working in the Senate

(Story)

Feb 18, 2016

Who's Your History Hunk?

(Story)

Feb 04, 2016

Why is Corbin Bleu the Third Most Searched Person on Wikipedia?

(Story)

Jan 26, 2016

Definite Ranking of Jonas Brothers Songs

(Story)

Jan 22, 2016

1996 vs 2006 vs 2016

(Story)

Dec 11, 2015
Dec 09, 2015

ACHONA's Gift Ideas

(Media)

Nov 30, 2015

If "The Notebook" Was Set in 2015

(Story)

Nov 13, 2015

The Origins of Donald Trump's Hair

(Story)

Nov 06, 2015

"No Shave" November

(Story)

Oct 23, 2015

Senior Lounge Controversy

(Story)

Oct 13, 2015

The Impact of Vine App

(Story)

Sep 28, 2015

AHN Slang (VIDEO)

(Story)

Sep 18, 2015

The Death of Facebook

(Story)

Sep 18, 2015

ACHONA's Fall Favorites

(Media)

Aug 21, 2015

Humans of Academy: Grace Baxter becomes the 98th senior sister

(Media)