Grades 9-11 Honors Convocation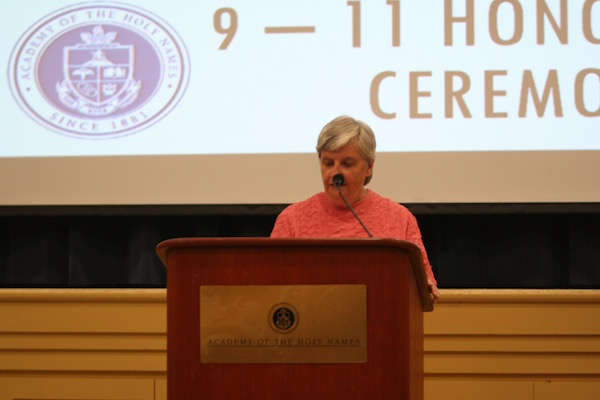 May 25 was the Honors Convocation for girls in grades 9-11. Principal Sister Ann Regan and Assistant Principal Erin Krukar, along with other special guests, presented the awards to the girls. Guests attended the Brady Center for the ceremony.
At the end of each school year, each grade picks the person they feel best represents their grade. This year's winners for grades nine through eleven were:
Chanita Belcher (9)

Credit: Kara Manelli (used with permission) Chanita Belcher poses with Sister Ann Regan after winning the Freshman of the Year Award to end her Freshman year.

Caitlyn Helms (10)

Credit: Kara Manelli (used with permission) Caitlyn Helms won Sophomore of the Year.

Brittany Bramwell (11)

Credit: Kara Manelli (used with permission) The Junior class felt Brittany Bramwell most deserved the Junior of the Year Award.
Other awards were given out during the ceremony. Below is a list of just a few of the awards given and their winners:
American Legion Scholar Award: Jenna Wiley (11)
Athena Young Women of Promise Award: Elizabeth Dolan (11)
Rensselaer Polytechnic Institute Medalist: Bruni Neufeld (11)
The University of Rochester Bausch & Lomb Honorary Science Award: Keri Kelly (11)
The University of Rochester Frederick Douglass and Susan B. Anthony Award Program in the Humanities & Social Sciences: Nicole Browne (11)
The University of Rochester Xerox Award for Innovation & Information Technology: Meredith Butler (11)
The Wofford College Scholarship Program: Alessandra Ruano (11)
High Point University Junior Scholars Program: Madison Hook (11) and Sophia Mastro (11)
Princeton University Book Award: Naomi Youakim (11)

Credit: Rachel McKenna/Achona Online
The Princeton University Book Award was presented to Naomi Youakim by her dad, an alumni of Princeton.

West Point Society of the Florida West Coast: Anne Marie Yatsula (11)
The Hugh O'Brien Youth Foundation Leadership Award: Alexandria Ligori (10) and Caitlin Shannon (10)
About the Writer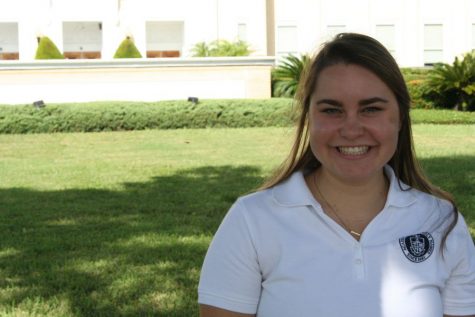 Rachel McKenna, Social Media Editor
Senior Rachel Mckenna is a Social Media Editor for this, her second, year on the ACHONA newspaper. Outside of class, Mckenna is a member of a volunteer...