HOA: Olivia Rivas signs to an All-Girls College
Many things set Academy apart from all the other schools in the area, however Academy's most notable quality is that it is the only all-girls high school in all of Tampa. Next year, the Class of 2016 will reenter into a coeducational environment, except for graduate Olivia Rivas. Rivas recently signed to Agnes Scott, an all girls college, to play tennis. Agnes Scott is a private liberal arts college located in Decatur, Georgia. I was able to sit down with Rivas and find out what motivated her to choose to continue attending a single sex school.
A: What made you choose an all-girls college after going to an all-girls high school? Did attending Academy for four years influence your decision?
O: "I really enjoyed my time at Academy. When I made my decision I think it all boiled down to what I thought would be the best choice for me. I know myself enough to know that I thrive better academically in a smaller setting and with limited distractions. I think Academy definitely had a role in my decision due to the fact that I had a really good experience in an all-women environment, and that in itself made the thought of attending an all women college not repulsive."
A:What made you want to attend Agnes Scott?
O: "When I visited Agnes Scott I immediately fell in love with it. Everything just felt right. As cliché as it may sound, sometimes something just feels right and I felt that. I had this gut feeling that I was supposed to go to Agnes."
A:Is there anything that you are nervous about for attending an all-girls college?
O: "There is nothing that makes me nervous in regards to attending an all-women college. Maybe too much drama?"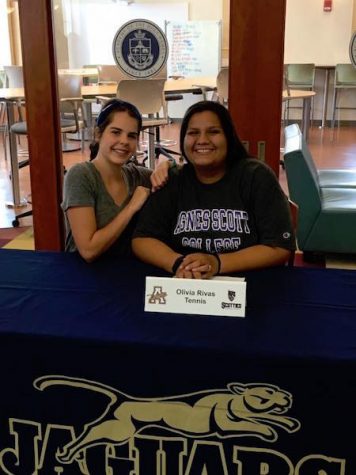 A: In your four years at Academy what was your favorite part of attending an all-girls high school?
O: "I think my favorite part is that although some girls may have disagreements, but at the end of the day your sisters will always have your back. It is an amazing feeling to be a part of something much bigger than ourselves."
Everyone at Academy is so proud of Olivia. Olivia is a perfect example that hard work pays off. Rivas plays tennis almost everyday after school and her signing was definitely a long time coming. Her Academy family is sure that with Rivas' work ethic and kind heart she will thrive anywhere she goes. Best of luck Olivia!