Drawing Class Turns Scribbles into Works of Art
Gesture drawings are documented in Nicolaides', The Natural Way to Draw, a classic book of drawing methods. Gesture drawings are like the calisthenics of drawing exercise. Calithstenics are cardio, meaning that Gesture Drawings are cardio for the art. Fast drawings intended to capture movement and the essence of a subject's stance, the artist's eye should observe more quickly, and the artists marks on the paper are supposed to be more brisk and focused on expression, more than the image of what she sees.
"All gesture drawing really is scribbling away to create a picture," explains junior Kelsie Killian as she continues to scrawl across the page.
The swift motion of the hand and a thick black sharpie over a long period of time eventually depicts a drawing. Killian is etching a scene of two of her junior classmates Jaed Seymour and Gillian Garcia studying.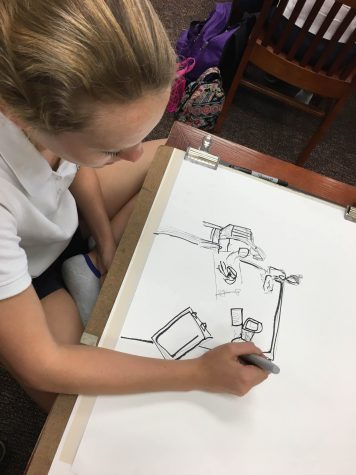 Seymour reports feeling "grateful to be drawn as a diligent learner in her study hall."
Junior Maddy Ruppel depicts a portrait of her friend Garcia modeling with a backdrop of the library. Garcia is touched that she is Ruppel's muse.
Ruppel claims that, "faces are difficult to draw using rapid hand motions. Also, being under a time constraint can be stressful."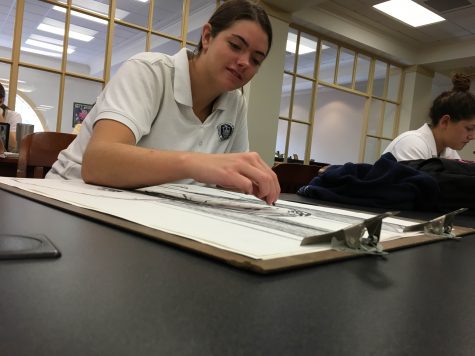 "Her drawing abilities are very good and the sketch actually looks like me!" exclaims Garcia.