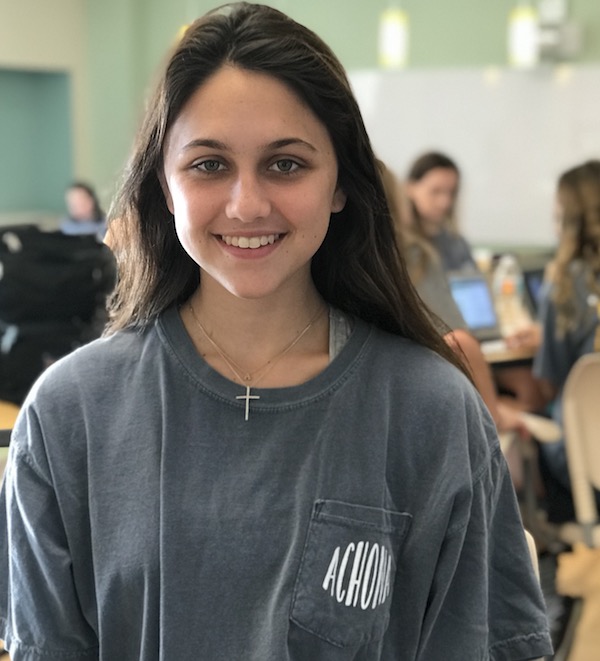 Alexa Traviesa is an Academy senior, and second- year staff member of the Achona. While in school Alexa enjoys studying English and History because they simply "are just not Math." She is a member of Academy's lacrosse team, Pro-life club, and SADD club.  Next year Alexa hopes to attend college up north "where there are actually seasons."  Her colleges of interest include Fordham University,
Catholic University
, and Pace University. Alexa hopes to study either Fashion or Sports Journalism. After furthering her education she envisions herself living in New York and writing for a magazine or newspaper. In her free time Alexa enjoys watching C
riminal Minds, Great Gatsby, La La Land
and spending time with her dogs. Her two dogs names are Kira and Gault, and the best thing about them is that they both have such different personalities. Kira her smaller dog has a very energetic personality while her larger dog is more laid back and lazy. During her time off school Alexa enjoys traveling. Her most favorite trips were to Africa, to climb Mount Kilimanjaro and to Paris simply to site see. Not only does Alexa go on vacations for fun, but also to give back. Her summer of 2017 trip to the summit of Mount Kilimanjaro was organized to raise money for an up and coming school in Tampa Bay,she even titled her trip,
The Kili-Climb for Kids
.  Over the summer of 2017, Alexa's father started a new school called
Collaboratory Prep Academy
. Alexa has become very passionate about the mission of this school, to help the less fortunate children of Tampa Bay receive a better education.  Alexa can also roll her R's, make a three- leaf clover with her tongue, and uses conditioner first when she showers.
Alexa Traviesa, Senior Staff Writer
May 07, 2018

A Day Out with Academy Dogs and Friends

(Story)

Apr 23, 2018

Prom Planning Pointers

(Story)

Apr 19, 2018

Cardi B: Who is She?

(Story)

Mar 27, 2018

Costa Rica Mission Trip: Costa Rica Viajero Misionero

(Story)

Mar 08, 2018

Ways to Cope with Cramps

(Story)

Feb 28, 2018

Keeping Up With the Academy Lacrosse Team

(Story)

Feb 22, 2018

Tips to Make Traveling Easy and Stress-Free

(Story)

Feb 13, 2018

My General Audience Experience with Pope Francis

(Story)

Jan 18, 2018

Junior Ring Rundown

(Story)

Dec 12, 2017

Art Basel Miami 2017 Rundown

(Story)

Dec 01, 2017

Tips for Exam Preparation

(Story)

Nov 13, 2017

Inexpensive Boutiques for the Perfect Holiday Outfit

(Story)

Nov 08, 2017

Jagwires: Robotics Update

(Story)

Oct 30, 2017

Academy Student's Reactions to the Weinstein Scandal: What Did the Girls Learn From It?

(Story)

Oct 25, 2017

Class of 2017 Graduate, Camille Opp, Is Taking Over the Modeling World

(Story)

Oct 17, 2017

Interesting Things in Teachers Classrooms

(Story)

Oct 10, 2017

Homecoming Court: How Was it Decided?

(Story)

Sep 29, 2017

Alessandria Ligori Becomes a Debutante

(Story)

Sep 15, 2017

What To Do When Stuck at Home During Irma

(Story)

May 19, 2017

The Weeknd Performs at Amalie Arena

(Story)

May 19, 2017

Exam Week Told By North West's Emotions

(Story)

Apr 20, 2017

Selena Gomez Adapts Netflix Show '13 Reasons Why'

(Story)

Apr 20, 2017

Where to: Get Your Prom Makeup Done

(Story)

Mar 31, 2017

A Girl's Best Friend: Academy Girls and Their Dogs

(Story)

Mar 21, 2017

Fabletics: Fan or Foe?

(Story)

Mar 07, 2017

La La Land, Worth the Hype? (OPINION)

(Story)

Feb 23, 2017

New York Fashion Week in a Nutshell

(Story)

Feb 15, 2017

AP Environmental Explores Different Sources of Energy

(Story)

Feb 09, 2017

Behold: The Apple Watch

(Story)

Jan 31, 2017

President Trump's Inauguration Performances

(Story)

Jan 25, 2017

Artists Refuse to Perform and Attend Trump's Inauguration

(Story)

Jan 09, 2017

Mariah Carey Ends 2016 with an Oops

(Story)

Dec 07, 2016

Reindeer Raffle Rundown

(Story)

Dec 01, 2016

Academy Girls Create Their Own Election

(Story)

Nov 08, 2016

Cross Country Team Continues to Win

(Story)

Oct 31, 2016

Florida State University trip with Mrs. Kimbler

(Story)

Oct 24, 2016

Trinity Gay, Daughter of American Olympic Sprinter, Killed Due to Gun Violence

(Story)

Oct 03, 2016

AHN Girls Share Their Favorite Makeup Products

(Story)

Sep 29, 2016

What to Wear On Game Day

(Story)

Sep 21, 2016

UberEATS Delivers What You Are Craving

(Story)

Sep 09, 2016

Rainy day must-dos

(Story)

Sep 08, 2016

Drawing Class Turns Scribbles into Works of Art

(Story)

Apr 22, 2015

Fashion Forward Feminism

(Media)