High School Arts at UT recognizes artistic achievements of AHN students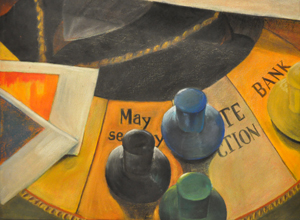 Not only does Shae Timmons hold Academy swimming records, she is also a detailed artist. Timmons recently received the highest honor during the High School Arts Exhibit at the University of Tampa.  One of Timmons' artworks received Best at Show during the afternoon reception. Through this award, she received a certificate and a $20,000 scholarship from the University of Tampa if she chooses to attend.
The  Scarfone/Hartley Gallery of the University of Tampa was the site of the exhibit, which included works by seven AHN students selected from 113 entries for the  UT annual juried exhibition.   Area students submitted four hundred pieces of art to the University of Tampa Fine Arts Faculty who chose only a quarter of the art for exhibition.  The afternoon reception on May 17  honored artists 22 public and private Hillsborough County high schools.
Timmons had three artworks chosen for the exhibition. She painted two still-lifes of a board game with opposite pastel schemes and a self-portrait created with newspaper and magazine shreds.
Mollie Van Buren sketched a portrait of herself. Natalie Hahn, Mikela Mollanazar, and Natalie Navarro submitted ceramic pieces they had worked on in Ceramics Class. Mikela Mollanazar crafted a blue vase with intricate patterns on the outside.  On exhibition by AP Studio Art seniors were a charcoal sketch by Karen Cornett and a stylistic oil by Mia Sager.
Mollanzar felt humbled to have her art selected for the exhibition. "I felt honored to be surrounded by such great artwork and that one of my pieces joined them!"
Best in Show winner Timmons was happy for the other artists whose work was presented. "I was not expecting to receive anything, but this award was a great surprise and I am glad that Academy was involved at the UT Arts Show."
The exhibition ends May 30. Directions to the University of Tampa are here. Call the front office at (813) 253-3333 for times and questions.