Hollywood royalty dazzles at the 86th annual Academy Awards
On March 2, 2014 Hollywood's elite gathered at the Dolby theater in Los Angeles, CA to celebrate excellence in cinema. Here's a look back on all the memorable moments from the 86th Annual Academy Awards:
Ellen DeGeneres hosts
Actress and comedienne Ellen DeGeneres was chosen to host the Academy Awards this year.  As always, Ellen's playful personality allowed viewers at home to see their favorite celebrities in a new light.  Ellen loosened up the crowd by ordering pizza and even taking a selfie with some of Hollywood's most famous faces.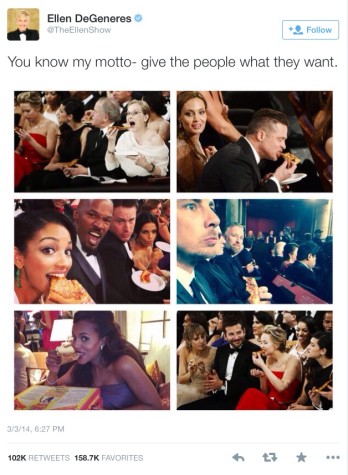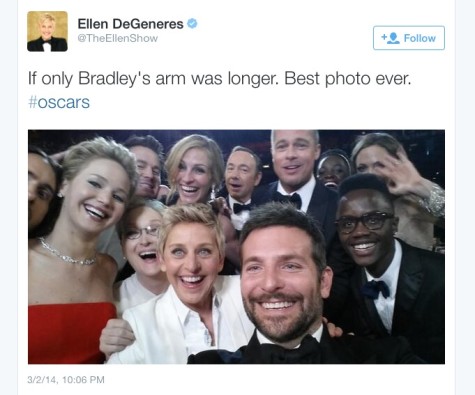 Outstanding Performances:

As always , the nominees for Best Original Song perform throughout the show.  This year the performances generated energy into the usually stiff ceremony.  Most notably Pharrell Williams' performance of "Happy", from the animated feature Despicable Me 2. Not only was Pharrell's performance filled with vibrant color and choreography, but he also interacted with leading ladies Amy Adams, Lupita Nyong'o, and Meryl Streep.

 One of the night's most anticpated performances was Idina Menzel's.  The film and stage starlet was set to perform the award-winning sond "Let it Go" from the Oscar winning animated film, Frozen.  Despite presenter, John Travolta's mispronunciation of Menzel's name, she performed the song perfectly and sounded better than the record. along with her stellar vocals, the stage was wrapped in icicles to look like a winter wonderland.

In memoriam  

Every year, the Academy pays tribute to the actors, producers, writers, and other film artists that passed away in the past year.   Many artists died this past year, including film legends Shirley Temple Black, Annette Funicello, and Peter O'Toole.  Also the sudden deaths of Paul Walker, James Gandolifini and Phillip Seymour Hoffman were remembered.  Following the tribute, actress and singer Bette Midler sang her poignant song "Wind Beneath My Wings".

Sam's Secret Collection

 Big Winners

Early in the show, Academy Award winner Anne Hathaway presented the award for best supporting actor.   Jared Leto won the accolade for his role in the film Dallas Buyers Club.  Christoph Waltz presented Lupita Nyong'o with the award for best supporting actress.   Hathaway proudly accepted the award for her portrayal of Patsey in Steve McQueen's 12 Years a Slave.  Daniel Day Lewis, who won the Academy Award for his role in Lincoln, presented the award for best actress in a leading role.  A regal Cate Blanchett won the award for her role in Woody Allen's Blue Jasmine.  Finally, Jennifer Lawrence introduced the nominees for best actor in a leading role.  First time nominee, Matthew McConaughey  took home the award for his riveting performance as an AIDS patient, Ron Woodroof, in Dallas Buyers Club.

12 Years a Slave wins Best Picture

At the show's end, actor Will Smith presented the award for Best Picture.  The Brad Pitt produced picture 12 Years a Slave took home the night's highest honor.  Producer Brad Pitt and Director Steve McQueen thanked the dedicated men and women who made the film possible along with the film's supporters.  12 Years a Slave tells the story of Solomon Northup, a free African American who was captured and sold into slavery.  Solomon spends the next twelve years trying to regain his freedom.  Along with Best Picture the film also earned an award for Best Supporting Actress and Best Adapted Screenplay.

Fox Searchlight