Dolphin Tale 2 is a Flop
In Dolphin Tale 2, Winter and Hope may have been flipping, but this movie was a flop. This movie is based based in the local area of Clearwater Florida at the Clearwater Marine Aquarium. The major motion picture revolves around the beloved Winter the dolphin with a prosthetic tail. Her disability was due to a crab-trap entanglement that cut off the blood circulation to her tale; leaving the tissue to die and thus no tail. Winter taught herself to swim side-to-side that eventually caused several types of scoliosis, and this is why she has the prosthetic tail for physical therapy to slow down the curvature of her spine. This story inspires children, veterans, people with disabilities, and anyone with a heart. In 2010, the first Dolphin Tale premiered causing a hurricane of tourism that flooded the Clearwater region.
The cast of Dolphin Tale significantly grew-up in this sequel; diminishing their innocent childhood qualities. The character Hazel, played by Cozi Zuehlsdorff, establishes her adulthood toward the end of the movie; however, her acting and style beg to differ. Cozi Zuehlsdorff's acting is juvenile and does not embody the expected maturity for this sequel. Unfortunately, not every teenage girl wishes to relate to any adolescent acting or unsophisticated clothing on a peer. The style director, Hope Hanafin, does not reflect the teen style of today. Hanafin's outfit choices for Hazel consisted of something our generation would have loved to buy from Limited Too in the third grade. For example, Hanafin dressed the character Hazel in a frilly mini skirt, tight tank top with beading, and dangle earrings. Also actor Nathan Gamble's character, Sawyer, does experience some more adult-like challenges; however, Nathan's acting is not up to par with the protagonist role he plays.
Ultimately, Dolphin Tale 2's character acting may not have been up to par, but the story was an acceptable sequel. The sequel did a phenomenal job by expressing the Clearwater Marine Aquarium in the correct lighting. The Aquarium has dealt with quests with misconceptions about the real story and what Clearwater Marine Aquarium actually does. The side stories of the sea turtle and Mandy the rescued dolphin spoke to the aquarium's true motto "Rescue, Rehabilitate, and Release."
Dolphin Tale 2 was a movie entirely focused for the PG and G crowd, but the facts and procedures performed can educate everyone on marine wildlife protection. Through education and inspiration, people will be more likely to be more mindful of their impact on the environment, and this is genuinely part of the Clearwater Marine Aquarium's mission. But,do not take my word for it; check out the Clearwater Marine Aquarium at
Leave a Comment
About the Contributor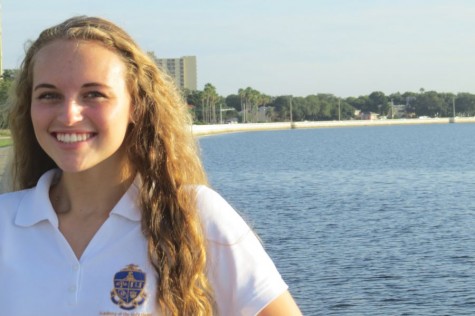 Karlee Nipper, Features Editor
Walking down the halls off Academy, it's hard to miss the bubbly laughter and "so bad they're funny" puns made by the one and only Karlee Nipper....