'If I Stay' leaves a lasting impression
"Sometimes you make choices in life and sometimes choices make you," and one of the choices you should be making this fall is to go out to see the movie If I Stay. The movie is based on the young-adult novel by Gayle Forman. It is a story about 17 year old Mia Hall (Chloë Grace Moretz), whose life takes a sudden turn when she and her family get into a catastrophic car accident. This causes her to go into a coma, and her family to be seriously injured. While unconscious, she is stuck in limbo, soundless to others watching her family and friends suffer through this tragedy. Throughout the movie, Mia has flashbacks of her life before the accident. Showing all of the good times with her family, friends and most importantly, boyfriend Adam Wilde (Jamie Blackley) to help Mia realize if she should stay living or if she should die.
The soundtrack for the film is one of the best. It is a mix of alternative rock and classical music. It features up and coming artists like The Orwells, Willamette Stone, Tom Odell, and many more.
For only being out for a little over a week, this movie has had huge buzz, especially from teenage girls. Many of the viewers compare it to "The Fault In Our Stars", another adaptation of the best-selling novel by John Green. Junior Alex Perez, a reader of the book and watcher of the movie said, "It was like I was reading the book all over again, the actors did an awesome job at depicting the one of those in the book. The movie was just how I pictured it would be."
Junior Eva Prendergast has a different view,"I thought it too much of a cliche. I mean, I don't have enough hands to count on for how many movies are now like this. I love the cute romance stuff, but I wish they would get rid of the girl always being so needy."
Personally, I thought this was the best young-adult romance movie I have seen in a long time. I was in tears for over half of the time, and I was okay with it. The love story between Adam and Mia made me feel nostalgic for a love I've never had. The plot is a very interesting idea of where the majority of the movie is viewed as her flashbacks with her family, friends and Adam. After watching the movie, I went out immediately to go find the book and its sequel "Where She Went". This tear-jerking story is definitely one movie that should be on your list this fall. Get ready for an unexpected tale of romance and and the pursuit of life as you follow Mia though her thoughts and feeling of others around her. Make sure you check out movie times at local AMC Westshore 14 and DO NOT forget to bring tissues.
Leave a Comment
About the Contributor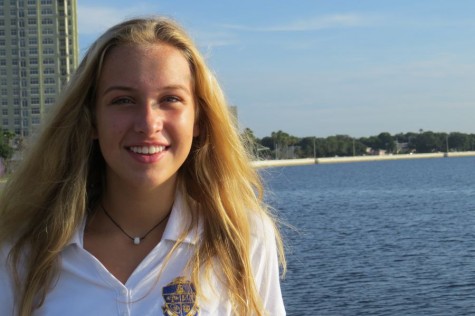 Grace Toups, Editor in Chief
Grace Toups is a familiar face around Academy. Whether she encouraged us to have more school spirit, interviewed us for Achona, or as an Ambassador she...