Bonnie Brown: Not your average grandma
Bonnie and Maxine are among 18 women in the Country Music Hall of Fame
This past weekend was the annual Induction Ceremony into the Country Music Hall of Fame. Stars who were there to sing, speak, or just watch walked the red carpet of the museum before the ceremony, among them some famous names including Garth Brooks, Cindy Lauper, Dierks Bentley, and Vince Gill. Among the 2015 Inductees was my grandma who was part of the band The Browns for 12 years.
The Browns are an American country band made up of siblings, Jim Ed Brown, Bonnie Brown (my grandma), and Maxine Brown. They grew up in Pine Bluff, Arkansas and while singing was important to them, they never expected it to go any further than their hometown. Jim Ed received attention after singing in a competition and from there, his career took off while being joined by his sisters who perfected the soft sound of their music. According to Bonnie, "We were raised loving country music, and that's where we belonged," so it came naturally to all of them. The Browns were active from 1955-1967 while they had 8 top-ten country hits and nominated for 4 Grammys. They were elected to enter the Country Music Hall of Fame in March 2015 and officially Inducted on October 25, 2015, but Jim Ed Brown was given the medallion nights before he passed away from lung cancer in June this year.  
My grandmother, Bonnie, was the youngest sibling of the three. Her older sister, Maxine, was one to always say what was on her mind, while Bonnie was the quieter one. Jim Ed provided the lead in most songs while Bonnie and Maxine completed the soft sound as background harmonizing. Their music was focused more on the country music melody, but some songs could be categorized as pop or even folk. Their biggest hit, "The Three Bells", was released in 1959 and reached No. 1 on the Billboard Hot 100 pop and country songs.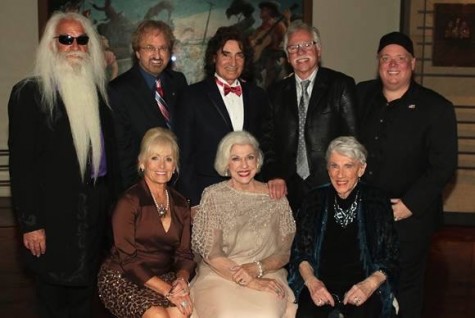 Our entire family, in total 50 people, flew up to Nashville on the Friday before to start the celebration. The weekend started with a walk down Broadway Avenue, all the lights and live music, and a visit to my grandma's beloved old record shop, Ernest Tubb Record Shop. Bonnie recalls, "It was a standing room crowd every Saturday night, after the Grand Ole Opry was over around 11 pm…everyone would congregate at his shop to see the new up and comers, I remember singing there multiple times in the early 60s."
On Saturday, we held a family dinner and had a surprise visit from one of the writers as well as the singer, Kelsea Ballerini, of "Love Me Like You Mean It" who gave a private moment of singing the song for my family and I. Speeches were made and tears were dropped as the highly-anticipated day came nearer and nearer. Everyone tried to go to bed as early as possible that night, because we all knew the next night would be a late one.
The next day, everyone woke with butterflies about the night and expectations for the experience. The Country Music Hall of Fame Museum had set up the display of the band's outfits and history for all to see, and wanted my grandma and Maxine to stop by before the big night. Naturally, all fifty of us crammed into the room where they had the exhibit and watched the reactions of the two women as they saw their display that would be in the museum forever. Bonnie says that at this moment, the full impact of being inducted hit her because, "Hit records will come and go, and publicity about appearances will pass by, but to be in the Hall of Fame is something that will last forever."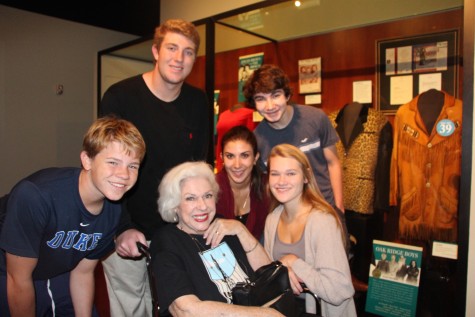 Both my grandma and Maxine were allowed to bring three escorts along with them, and my grandma chose my cousin and I, along with her husband. My brothers watched in envy as we were walked to the limo, eventually bringing us down to the red carpet. The limo ride had a special silence to it, like everyone knew they were living a moment that they would remember for their entire lives, so nobody wanted to mess anything up. As the doors opened, flashes came from the left and right to catch our every moves along the walk. I was advised to smile the entire time, even when talking, and face the cameras as much as possible. My brother, Clark Bulleit, recalls that he felt "in awe" as he stood behind the cameras watching us walk down the red carpet because, "It really hit me how privileged this moment is and how lucky I am to have such a role model as my grandma, showing us how far hard work can take you."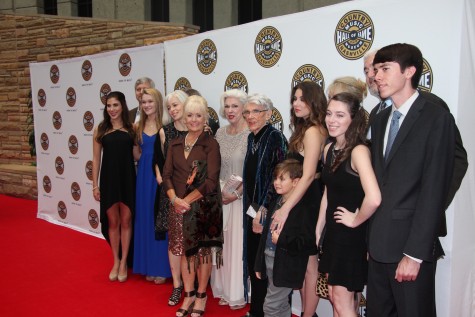 Backstage, stars including Dierks Bentley, Garth Brooks, and Trisha Yearwood walked up congratulating the women on their great accomplishment and had side conversations with us as we walked by to meet the rest of the family and take our seats. I have never sat through something more beautiful and breathtaking than the ceremony itself, even before the official induction happened. Each group, three in total, had videos, speeches, and performances dedicated to them throughout the night, a celebration honoring their music and contributions to country music itself. The families filled with pride and the inductees felt something that even performing on stage could not reach.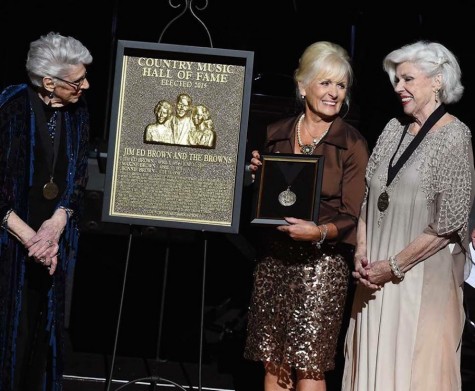 In words, I cannot truly explain how beautiful and breathtaking my grandma looked while receiving her medallion on stage. There is something truly special about seeing your loved ones radiate such pure joy and beauty, a moment that makes you smile a little bigger and adds an extra skip to your step for the days after. Clark Bulleit remembers from that moment, "she was shining on stage, naturally bringing all eyes toward her as she walked up the steps after her name was called." Everyone in the family had goosebumps while watching the highest honor of country music be given to these two women who did more than enough to deserve it. While on stage, Bonnie got a little emotional because "I've never been on stage without my big brother, Jim Ed, with me and Maxine. We felt a little lost, but I knew that he was up there watching over us." This was a moment, a night, and a weekend that will not only go down in everyone's memories but also in country music history. Every country music artist dreams about being inducted and spends their whole career working towards it. For the Browns, this induction symbolized a career of hard work and commitment to a far-fetched dream.