Definite Ranking of Jonas Brothers Songs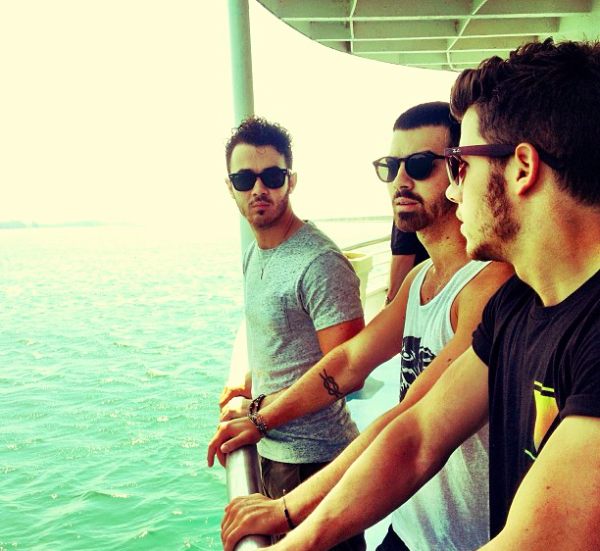 The Jonas Brothers were and still are an international hit with songs that are still widely listened to today. From 2006 and on, the Jonas Brothers have been a favorite of Academy  girls. Out of their 107 songs, here's Academy's definite Top 10:
"Paranoid"
Heard on the Jonas Brother's last album Lines, Vines, and Trying Times, "Paranoid" is known for its laid back beat and chill vibe. Its mellow drum beat combined with Nick and Joe's lead vocals land it in the Top 10.
"Play My Music"
Originally heard on the Disney Channel Original Movie Camp Rock, "Play My Music" was a favorite on both the charts and the big screen. Camp Rock became instantly one of the top Disney movies, mostly to the appearance of the Jonas Brothers.
"When You Look Me in the Eyes"
"When You Look Me in the Eyes" was one of the more slow singles that the Jonas Brothers released. Nick and Joe's heartfelt singing payed off; the song gained a large amount of international fame for the band, specifically in Australia and U.K.
"Fly With Me"
"Fly With Me" was one of the last singles the Jonas Brothers released. Though it may not have been around as long as the others, it is still very notable. It has over 2.8 million plays on Spotify and was featured on Billboard's Top 100.
"A Little Bit Longer"
Written about Nick Jonas's experience with diabetes, this song brought everyone to tears. Nick Jonas takes lead vocals singing lines like "A little bit longer and I'll be fine," and "waiting on a cure but none of them are sure" that give it its charm.
"Hold On"
"Hold On" was the song that made twelve year olds in 2007 feel like they listen to hard rock. Electric guitar, drum solos, and the Jonas Brothers yelling at you to "Hold On" would make any pre-teen 'hold on' for dear life.
"SOS"
Even though "SOS" had a killer music video, the song was a favorite all on its own. It was an instant classic and the top single of the Jonas Brother's album Jonas Brothers.
"My favorite song is 'SOS" because I like the beat and the lyrics, " Senior Bryanna LaRussa states.
"Lovebug"
A song written about the Jonas Brothers falling in love, "Lovebug" gave fans the hope that Kevin, Nick or Joe would eventually confess their love for them. Its quiet acoustic tune can melt anyone's heart. Its acoustic melody slowly swaps into a guitar solo mid song, increasing the love for the hit.
 "Burnin' Up"  
Released in 2008, "Burnin' Up" has been a crowd favorite among JoBro fans. It has the highest plays on any Jonas Brothers songs with a count number over 10 million plays. It is easily the most recognizable song by the Jonas Brothers.
"Year 2000"
"Year 2000" was the first song most people had heard from the Jonas Brothers. It holds a special place and the number one place in any fan's heart with its nostalgic line "I've been to the year 3000, not much has changed, but they lived underwater." One play of it can bring anyone straight back to 2006.
"One of the best songs they've ever made. It makes me very happy that it's #1. I agree completely; everyone old or young knows that their best one." Senior Camille Yodzis adds.
BONUS:
"BOUNCE"
Not an actual single by the Jonas Brothers, but released on their YouTube channel jokingly. Needless to say, it's art.