"Grease: Live" is the word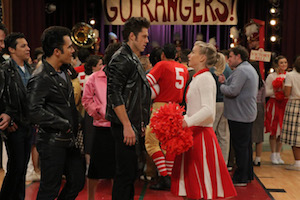 One of the greatest, and most iconic, musicals of all time was recently played on the big screen in a whole new way. On January 29, FOX televised their own live version of the musical Grease, hence the name Grease: Live It took live televised theatrical performances to a whole new level. Despite the grandeur of the cast and sets, Grease Live! fell short of beating The Sound of Music Live!'s records. The sets were so massive that between scenes they needed to ride golf carts in order to reach the other stages in two and a half minuets to be air again. Before the show began, the news spread about the death of actresses Vanessa Hudgen's father the previous day.
#GreaseLive is TV's highest-rated musical since 'Sound of Music Live' https://t.co/zPRGR0Obp8 pic.twitter.com/0HCXLlj2Qa

— Variety (@Variety) February 1, 2016
The producers of the show dedicated the performance to her father and, according to producer Marc Platt, Hudgens "decided she would take her feelings of loss and sadness and put them in a box for that afternoon, that she would use them to fuel her performance and she would do it in honor of her father."
AHN Senior, Caroline Yount, shared how she felt about the performance. "Vanessa Hudgens' performance was so strong, especially since her father passed away before." said Yount, "There's a lot of pressure on her to live up to the expectations of Grease and despite everything she did great!"
.@VanessaHudgens' strength during #GreaseLive last night was truly inspiring: https://t.co/ieC1rzjWp7 pic.twitter.com/ByOhUSwy2O

— MTV (@MTV) February 1, 2016
Some of the lead actors were all familiar faces, Carlos Pena from Big Time Rush, Kiki Palmer from Scream Queens, Carly Rae Jepson who recorded the catchy song "Call Me Maybe," Juliane Hough from Dancing With the Stars, and Joe Jonas's band DNCE.
Ready to hand jive all over again? Check out some nifty #GreaseLive clips HERE: https://t.co/ag0PfgUrKC pic.twitter.com/BXHebE9GgE

— GREASE: LIVE (@GoGrease) February 1, 2016
The characters in this version were slightly different from the movie version. Even though Aaron Tveit, who payed Danny Zuko, did not seem as rebellious and mysterious as John Travolta did, Julianne Hough perfectly executed her role as Sandy.
It's finally here!! @GoGrease is on NOW! #GreaseLive ❤️ pic.twitter.com/ZAehQHOb5I

— Julianne Hough (@juliannehough) February 1, 2016
Vanessa Hudgens, as Rizzo, and Carly Rae Jepson, as Frenchie, looked as if they could have been the characters from the original Grease movie.
#SquadGoals until the end: https://t.co/nBkJDu8iz9 ? #GreaseLive pic.twitter.com/OOjiv0eJ00

— MTV (@MTV) February 1, 2016
Fox featured the original songs from the musical including "Summer Nights," "Greased Lightning," and "Beauty School Dropout." This live version, however, had a twist to it. The live musical performed songs that were not included the movie, such as "All I Need is an Angel," made specially for Carly Rae Jepson, and "Freddie My Love," sang by Keke Palmer.
If no one realized it, the original Frenchie, Didi Conn, was the waitress at The Frosty Palace, and gave our new Frenchie some inspiring tips and tricks.
Frenchie squared #GreaseLive pic.twitter.com/SGXRG8SNV0

— Cosmopolitan (@Cosmopolitan) February 1, 2016
Senior Maddie Matesich said that, "It was a great tribute to Grease and they did a good job!"
Like all TV, film, and musicals, despite the ups and downs the show must go on, and that is exactly what this cast did. Whether you agree or disagree with the 7.5 out of 10 rating from IMDB or the whopping 91% from Rotten Tomatoes, Grease: Live was one for the books.
Sweet dedication at the end #GreaseLive pic.twitter.com/iK2qgbeSqO

— Natalie Abrams (@NatalieAbrams) February 1, 2016