The Final American Idol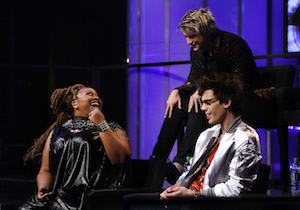 For the last 15 seasons, American Idol has created literal American idols across the country. This season, the winner of American Idol was Trent Harmon, a native from Amory, Mississippi. Trent has a soulful, bluesy voice, but runner up La'Porscha Renae had a strong voice with a killer range. It was a tough choice for many who wanted La'Porsha to win since her story became an inspiration to the thousands who watched her perform. Third and fourth place belonged to Dalton Rapatoni and Mackenzie Bourg. La'Porsha released her single "Battles" and Trent has released his single "Falling."
To many, American Idol is just another tv show that takes up too much time and effort. Others simply lost interest after the original judges left the show.
Squad goals! #Idol pic.twitter.com/BMlgmX43tI

— American Idol (@AmericanIdol) April 10, 2016
To the remaining Idol fans, however, it is a time to sit back, relax, and enjoy some quality competition between some quality singers. Some of the singers from Idol are well known around the Academy. Kelly Clarkson, Carrie Underwood, Jordan Sparks, David Cook, Scotty McCreery, and Philip Phillips are a few of the winners whose music has been heard down the halls. Many of the contestants that didn't win became famous despite the fact. Jennifer Hudson, Chris Daughtry, Jordin Sparks, Kathrine McPhee, and David Archuleta are a few. For Senior Isabella Alphonso, her favorite Idols were Ruben Studdard, Clay Aken, and Fantasia.
Even then, those who didn't even make it past the auditions have still left a lasting impression. General Larry Plat from Season 9 and William Hung from Season 3 , are two Idol hopefuls that have left the longest impression on some of the seniors. Both gentleman appeared in cameos for the finale.
Would it be a true #IdolFinale without Larry Platt's #PantsOnTheGround?

— AP Entertainment (@APEntertainment) April 8, 2016
Here are the top moments of the Season Finale:
1.When your favorite Idols from the past joined together one last time
2. When Kelly Clarkson, Jessica Sanchez, and Pia Toscano made you wonder "How is this even possible!?!?!?!"
We're still in tears over @kelly_clarkson's incredible #IdolFinale medley! pic.twitter.com/7tFr1rN96N

— American Idol (@AmericanIdol) April 15, 2016
3. This beautiful acoustic medley
4. The moment the "Three Divas" left it all on the stage.
5. The moment these boys made you think to yourself "What else am I supposed to do without this?"
Five of our favorite #Idol fellas delivered an incredible tribute to the late David Bowie. #IdolFinalehttps://t.co/wcW5bqwh2Z

— American Idol (@AmericanIdol) April 8, 2016
6. When General Larry Platt had a cameo and performed "Pants on the Ground" (5:50) in the midst of this awesome medley
7. When Carrie Underwood blew everyone away
8. When the final American Idol was crowned
And the final winner of American Idol is…. @TrentWHarmon! ??? #IdolFinale pic.twitter.com/ed2A2Dm8JZ

— American Idol (@AmericanIdol) April 8, 2016
9. When after all these emotions, Ryan Seacrest hinted that it might not be over.