Native Chicagoan, Mr. Butterly takes on World Religions postion
After a full summer of searching for the perfect World Religions teacher, AHN has found Mr. Brian Butterly.
After Mrs. Ginger Liston retired from her Theology position, Academy administrators began perusing the many diverse applicants. Soon, they came across the perfect candidate. Mr. Butterly, a native Chicagoan, resided in the neighborhood known as Rogers Park. As a Cubbies fan, he spent most of his summer days cheering on the team in Wrigley Field. Yet he was not destined to stay in Chicago forever.  He moved to Florida in 1980, choosing Fort Myers as his new home. From there, he traveled constantly. He attended several colleges including St. John Vianney College, St. Vincent DePaul Regional Seminary, University of South Florida and the University of Florida. He received a wide variety of degrees such as a Masters of Arts Theology, Master of Divinity, and Master of Arts Christian Spirituality.
When asked why he chose Academy, he revealed noticing some very special qualities about our school that set us apart from others. He described the environment as a "family atmosphere", observing how the students support each other. He enjoyed Freshman Orientation and spent the start of the year learning all about the sisterhood that makes Academy special. Our traditions reminded him of the traditions he had in his own high school. Butterly also shared his initial thoughts upon first hearing that he had landed the Theology position.
"I'll be teaching at an all-girls school, can I do that?" he said lightheartedly.
Mr. Butterly previously taught eighth grade American History at Lake Gibson public middle school in Lakeland Florida for three years. He shared that his first teaching experience with " that particular age group" was enlightening for him. He ultimately decided to switch from a public to a private school in order to focus more on learning with a particular religious emphasis.
When asked what professionalism means to him, Mr. Butterly replied, "[It means] to be a model. I want to be a model of Christ, teacher, good male role model and a decent human being".
He has been searching for employment at a Catholic institution since 1993. Since then he has been lucky to teach at a Saint Peter Clavier and now Academy.  Academy and Jesuit were his two favorite schools. Mr. Butterly believes he has the personality and the academic acumen to teach at AHN. He wants to be in a place where academics are taken seriously.
"When a student gets what I am saying. It is the most satisfying thing about teaching", said Mr. Butterly.
He looks forward to his first year as the Theology professor and hopes to meet everyone in the AHN family.
Leave a Comment
About the Contributor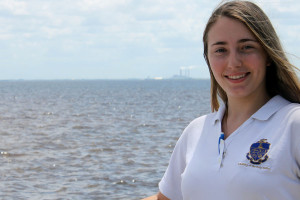 Nicole Perrella, Senior Staff Writer
First year to Achona's newspaper staff, senior Nikki Perrella. A timid creative girl that once she steps out of her shell and is comfortable with everyone...