Say "Bonjour" to Darlene Lafranconi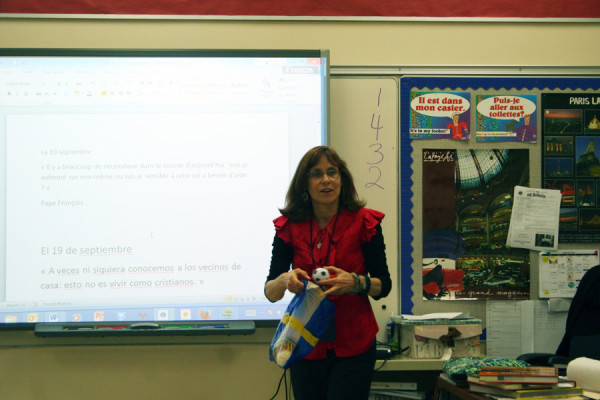 This year Academy has welcomed several new teachers to the Academy family, and among them is Ms. Darlene Lanfranconi. She is both a Spanish and a French teacher and loves what she does. Even though this is her first year as a teacher at Academy, she has taught for twenty-five years. Lanfranconi once taught at an all-girls High School in New York and at a school in Europe before coming down to the Sunshine State.
Growing up, Lanfranconi learned both Spanish and French. When she was in college, she majored in Spanish and minored in French and put it to the test when she studied abroad in France. While in France, she met new people, fell in love with her environment, and decided to stay. After graduating college, she moved to Lake Como in the Alps of France for a year. Her job was stationed in Milan, Italy. While living in Europe, she taught English. The summers were short and beautiful and much colder than Florida's.
When she left Italy, she returned to the United States and had no place to stay. Her parents lived in Florida at the time, so she came here to live. After searching for job opportunities, she finally found the one she thought would be right; to join the AHN family.  Lanfranconi has lived in Florida now for twenty years. "I don't think I cam compare it to where I've been. Each place has been awesome for different reasons. It's my home now. It's where my son lives. I would miss the sunshine. I think it's nice because the sun makes me happy."
Before kicking off her teaching career, she had a busy job in the business field. The competition was hard and it was something she wasn't able to go through with, so she decided to try teaching. She soon formed a strong passion towards teaching. She took her students on trips to Europe and France.
In her spare time, she enjoys watching all of her son's athletic games. A fan of travel as well, Lanfranconi has explored Europe, Hawaii, and Canada. Now, the AHN family will definitely get to experience the European culture that Ms. Lanfranconi will provide. "I love Academy and everything about it. There's nothing not to like."