How savage are you?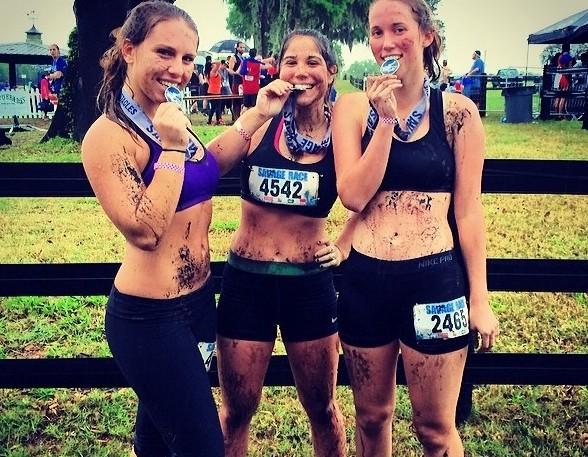 Seniors Victoria Valdez, Sydney Sinardi, and Devin Lewis tested their strength and endurance in the most intense race that has come to Tampa, the Savage Race. Not only did our seniors run six miles, but they also had the endurance to scramble through mud and rain and climb over world renowned obstacles. These unique obstacles are designed to challenge not only the physical aspect of the race but the competitor's mental abilities as well.
"The obstacles are what makes Savage different than any other race I've ever competed in," Sinardi comments. "While I was running and climbing over stacks of hay and getting electrocuted by wires while crawling in the mud, all I kept thinking was 'why am I doing this?' But after we finished, I wanted to go again. It was great and I can't wait to start training for the next one."
Preparation for Savage took months of intense training that encompassed the entire body. According to Lewis, "cardio played a huge role in this race, but strength training was just as important. I ran countless miles on Bayshore and in my neighborhood which prepared me for the cardio portion of the race, but strengthening my muscles helped me tremendously with all the climbing, crawling, and hanging."
The Savage team strategically designs the course so the competitors spend more time fighting their way through the obstacles than they actually do running. "Due to the weather conditions, some of the obstacles were shut down, like the inclining and declining monkeybars," Valdez comments, "but I think that having a thunderstorm just added to the intense environment of this race. It was crazy and I can't wait to go again."
The next Savage Race comes to Florida again on October 25 and 26 at Little Everglades Ranch. Sign up and see how savage you are.