Humans of Academy: Mary Kate Magyar creates art that only we could ever dream of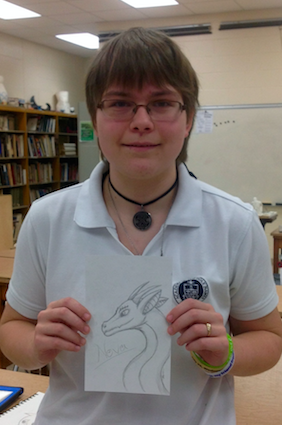 This month's featured Human of Academy is junior, Mary Kate Magyar. With a talented and artistic eye, Magyar is able to  bring to life fantastic fantasy drawings that we could only dream of creating. Throughout Academy, she is known for her masterful drawings  that are be found in the margins of her notebooks. Such drawings consist of detailed dragons and other creatures of folklore. She then digitally creates her images on her iPad. Magyar is also known for her participation in the National Recitation Contest,  Poetry Out Loud. She advanced to the State Finals in 2014  to represent Academy. Magyar is also an avid reader and writer.
After graduating Academy in 2017, Magyar aspires to go to CalArts, University of Central Florida, Ringling College of Arts and Design, or Savannah College of Arts and Design. From there she hopes to get a degree in Computer Animation to become an animator for Disney, Pixar, and Dream Works.
When did you start drawing?
"I started consistently drawing in about 6th or 7th grade, though, I starte getting really good the summer before high school."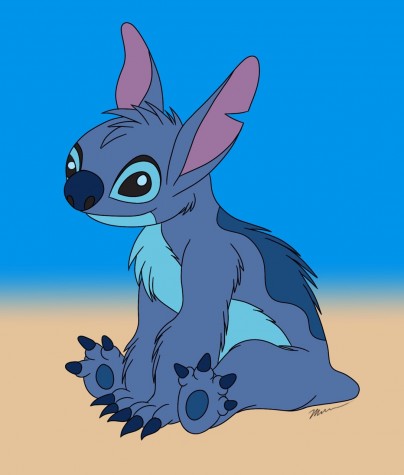 What app do you use to create your pieces?
"I use ArtStudio, it costs five dollars, but it's definitely worth it."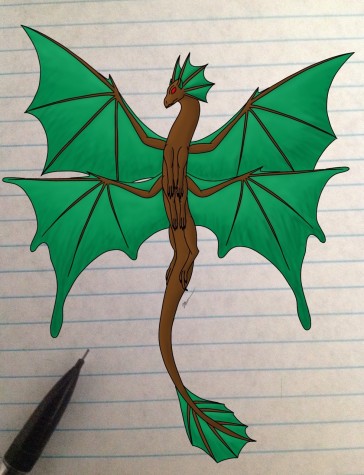 On average, how long does it take to draw one piece?
"How long it takes depends on a lot of things, such as size, detail, etc. I can do quick sketches in a few minutes, my average drawings take around a half hour to an hour, and if I'm digitalizing something, it can take anywhere from a day to a week, depending on how frequently I work on it, but the actual work time is probably somewhere between 3 and 4 hours."
What do you usually draw?
"The thing I draw most is dragons. But I also like to draw this little creature that I designed over the summer, it's a griffin-owl-cat thing."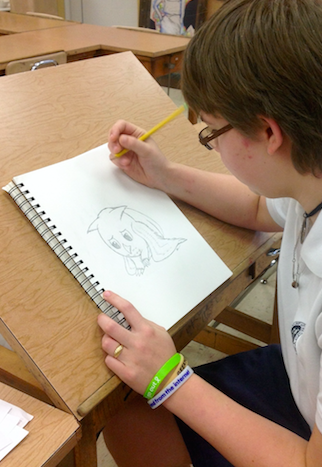 What's the hardest thing to draw from your personal experience?
"I try to draw people, it doesn't go well. Plus, I take like an hour to draw a pair of eyes. I did that once for art class, it's not fun."
What are your other hobbies and what about them do you like?
"Reading and writing. I love to create worlds and characters and see what other people create. And obsessing over Harry Potter, because it's Harry Potter."
Out of all of your pieces, which one is your favorite, and why?
"I just really like the way it came out. The drawing itself was really good before I digitalized it, the coloring and shading came out really good, the color scheme of the dragon itself is pretty plain, but the purple makes a really good accent color that sticks out, and the background looks really good up close, especially the sky. Also, it was for my friend's birthday, and they really liked it, so there's that too."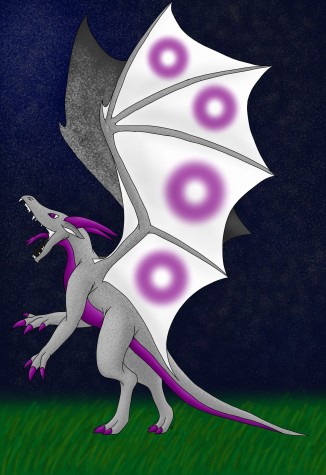 What was it like representing Academy at State Finals for Poetry Out Loud?
"Terrifying. When I was on-stage all I was thinking was 'Why am I up here?!'"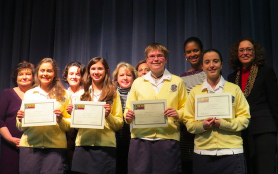 What do you like most about Academy?
"How close-knit everyone is while still being friendly to people they don't know that well."
Know a "Human of Academy" doing amazing things that we should feature? Email the details to [email protected]