Sushi Survival Guide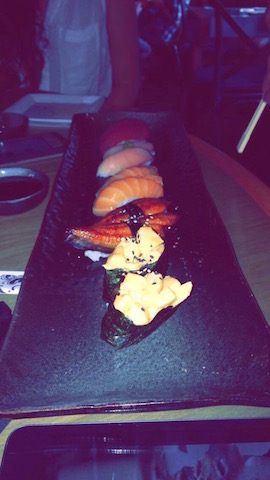 Being an Academy girl requires the knowledge of the best restaurants and shops around the Bay. Tampa has many unique and yummy restaurants which not a lot of people know about. One of Tampa's hidden treasures include Sushi Restaurants.  
Sushi is a popular food, consisting of fish, sometimes raw, vegetables and rice wrapped in a roll. It is a trendy food right now and makes a great meal. If you don't know where to go to get sushi or what to order it can be a scary experience, since eating raw fish may not sound appetizing at first. . Are you wondering where in Tampa can you find the freshest, most mouthwatering, creative, and delicious sushi? Be prepared to pick up your chopsticks and start craving raw fish!
Top Sushi Restaurants
1. Yoko's Japanese Restaurant
Conveniently located across the street from AHN is Yoko's Japanese Restaurant. Yoko's is open 6 days a week for lunch and dinner and is a top restaurant for Friday nights. Yoko's is known for their friendly environment and their variety of sushi rolls, more traditional style of sushi rolls and fresh ingredients. When you walk in you are greeted with a friendly welcome and you almost immediately get a table, unless you go late on a popular Friday night. Yoko's also has a sushi bar where you can watch the chef work his sushi making magic and watch your roll being made in front of you. Senior Caroline Lamoutte exclaims, "Yoko's is my favorite because it has the most classic sushi and my favorite roll is the tuna roll." After having a delicious meal, you'll be leaving Yoko's with a full belly and a new love for sushi.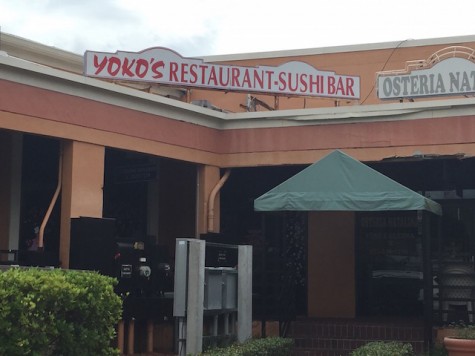 2. Kelp Sushi Joint
Kelp Sushi joint is a new restaurant that opened on Bay to Bay and is a huge hit. Kelp is located at 3401 W Bay to Bay Blvd, Tampa, FL 33629 in a small plaza next to Feet First, Starbucks, and K Nails. Kelp is a smaller restaurant with a modern, hip and intimate feel. The service is good and the staff friendly. You can sit inside in comfy booths or at a table inside or outside underneath strings of lights.Kelp is known for their fast service and intimate environment. Kelps chefs are skilled master of combining traditional style rolls with new and creative flavors. Kelp is also known for their creative rolls and their variety of japanese style food. Kelp has added vegetarian rolls to their menu and have become a fast hit. If you're nervous about eating raw fish you can go to Kelp and get a cooked roll. Kelp offers a variety of cooked and tempora rolls that are incredibly delicious. If you're swamped with homework and you're desperately craving sushi, no worries, Kelp will now deliver your order for a small charge of $3.50. Also if you don't want white rice in your roll, Kelp offers the substation of brown rice without an upcharge. If you're feeling a little bold and don't want rice for your rolls, Kelp has other options besides rice for only a small charge: Brown rice – no extra charge; Rice PAPER- no extra charge; Cucumber wrap ($2); Soy paper ($1.50); make your roll Tempura style ($1). Junior Allie Weachter shares," I like Kelp Sushi Joint because they have a variety of different and creative rolls and they always have healthy options so I don't feel guilty when I eat the sushi."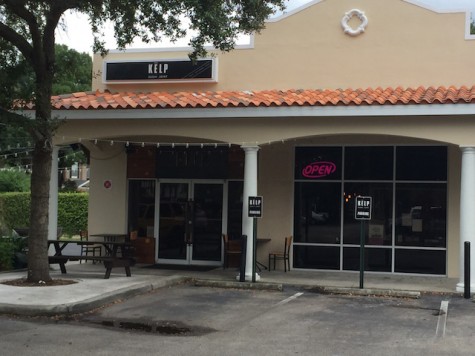 3.Soho Sushi
Senior Anya Muyres' favorite restaurant to get sushi is Soho Sushi. "Soho Sushi is my favorite place because all the ingredients are fresh, the prices are low. My favorite roll is the Spider Roll because it's everything you could want in a sushi roll. Soho Sushi is a small restaurant with an extremely friendly staff. The ingredients are always fresh and the chef's often come up with new and creative rolls. They are never afraid to try new things. One exciting option at Soho Sushi is you can bring in your own fresh fish and they will prepare it for you.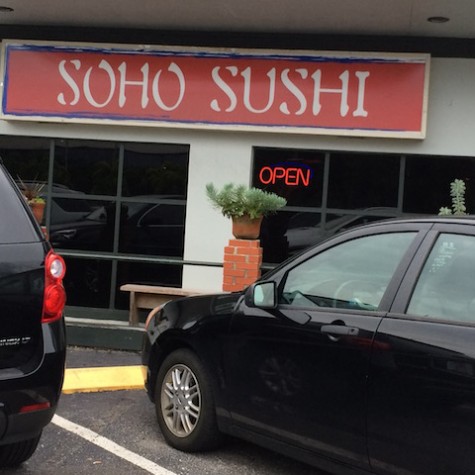 4. JoTo Thai-Sushi
JoTo Thai Sushi is a  restaurant with Japanese-Thai influence. They serve sushi, soup and salad. When you walk into JoTo's,  you feel as though you have been transported to Japan; the decor makes the dining experience festive.  You have the option of sitting at a booth, table, sushi bar, or you can sit in the traditional Japanese style at a low table sitting on the floor. Joto's has fast and excellent service. If you're starving and want a lot of sushi, this is the place to go. JoTo's is known for their JoTo Boats. A JoTo boat is sushi rolls served on a massive wooden boat. The presentation of the food makes for a unique dining experience. JoTo's is also known for their reasonable prices. During the week JoTo's has sushi roll happy hour, with specials, two for one rolls and lower prices. Senior Jessica Villa loves JoTo because, "I like that the sushi is served on a huge wooden boat and it's a good place to go with friends." The sushi happy hour is the best time to try new rolls without killing your wallet. JoTo's is the  place to go for sushi with a Japanese-Thai influence and a great place to experiment with new  types of sushi rolls.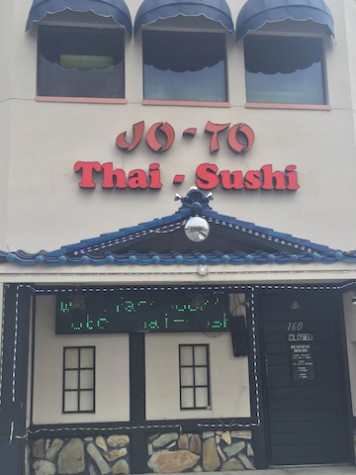 Top Sushi Rolls
1. TB Rays Roll  from Yoko's
The TB Rays Sushi Roll is from Yoko's. Inside the  TB Rays Roll includes tempura shrimp, krab, and Avocado. The roll is topped with steamed shrimp and is  finished with Spicy Mayo, El Sauce, Tempura Chips, Scallion, and Roe.  Senior Grace Alexander explains," The Tampa Bay Ray Roll is my favorite ,because when you take your first bite of the roll it's an explosion of flavor and a you can taste the freshness of the ingredients."
2.  Tampa Roll from Soho Sushi
The Tampa Roll from Soho Sushi is filled with panko fried escolar, japanese mayo, roe, scallion, and topped off with avocado and sesame seeds. The Tampa roll is a simple and classic roll but still a popular favorite because  when you take a bite your taste buds will be amazed with the flavors.
3. Spider Roll from JoTo Thai-Sushi
The Spider Roll from JoTo Thai- Sushi  is filled with soft shell crab, asparagus, and smelt roll. If you're a crab lover this is the roll for you. The spider roll is the perfect roll to share and will leave you with a full belly.
4.  Mango Roll from Kelp Sushi Joint
The Mango Roll from Kelp Sushi Joint is a healthier lighter, fruitier, and vegetarian option. The Mango Roll is filled with mango, avocado, spinach, carrots, and sesame seeds. This roll is very filling but doesn't kill you with the calories.