The Evolution of Erin Krukar: The Ultimate Academy Woman
Transitioning from an Academy student, to an Academy English teacher, to Assistant Principal of Academy seems like it could be too much for one person. But, Erin Krukar likes to think otherwise.  Academy students over summer were on their toes wondering who was going to fill in for the new roles of Principal and Assistant Principal. Learning that former English teacher and Academy alum (class of 1999), Erin Krukar, was going to fill this position the girls were ecstatic.  Senior Rylee Johnson exclaimed,"I was so excited! After having her for English freshman year, I absolutely love her; I know that she will fill this role so well."  Meeting with her was a wonderful chance to learn about her experience through the years transforming herself to be the ultimate Academy woman.
What were your favorite things to do while you were a student?
"I spent four years on Student Council and I really liked getting to interact with the other girls and that was the start to my leadership at Academy.  Lunch was also a favorite.  Freshman year I sat outside everyday at the oak grove picnic tables and got to stare at Bayshore the entire time. Then, during my junior year, I got the privilege to eat inside. But, the lounge was my absolute favorite. Located on the second floor, it was about twice the size as now, even though my size class was in the low 80s."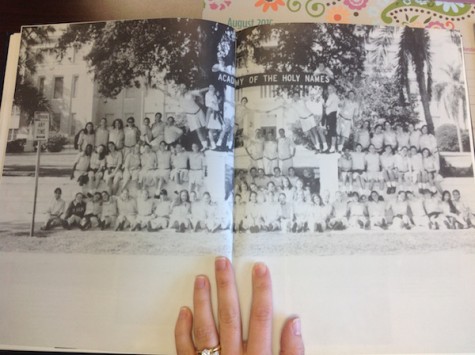 What was administration like when you were a student here?
"We had Mrs. Johnson and she was phenomenal. She cared and interacted, and understood the fine line or work and play.  She stood as a motherly figure for all of us by care of us, but also knowing what was best."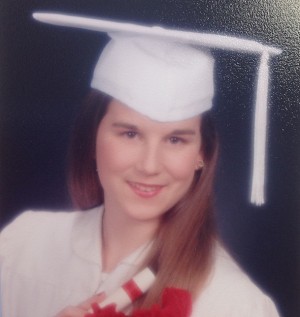 Did you ever picture yourself coming back to Academy?
"No. I didn't even think about what career I wanted until I completed college.  After I decided this was the path I wanted to take, I knew this was where I wanted to be.  When the news first came around of being a prospect for Assistant Principal, I was really nervous because I always spent time in the classroom.  The hardest part of it all is having to walk through the halls not knowing all the freshman.  Being a freshman English teacher, I had such pride in knowing all the girls before the other teachers. I loved to be with the students. This new side has been such an adventure and I really enjoy it.  Now I am able to roam the halls as much as I want and stop girls there to strike up a conversation."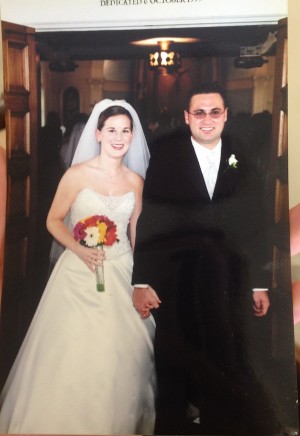 What was your uniform like?
"I thought my uniform was awesome.  It was basically a long button down shirt-dress. It was so comfy and all I had to do in the morning was throw the dress over my head and walk out the door.   Everyone threw on their socks, penny-loafers, and dress with a belt and sweatshirt.  That was the only uniform at the time.  No mass uniforms for us."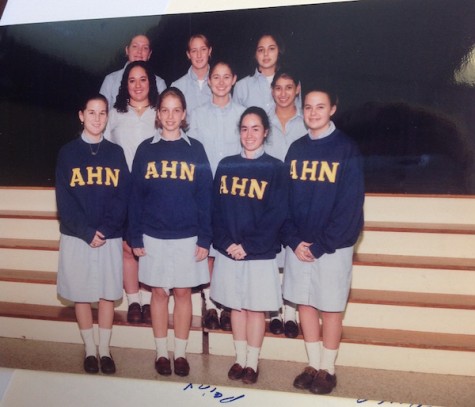 What teachers are still here?
"Mrs. VanPelt: Algebra 2 and Student Council; Ms. Perrella: AP Bio; Sister Mary Glavin, Sister Ann (at the time was working with elementary school), Mrs. Keegan, and Mrs. Chase: typewriters (aka computers). Sister Mary Patricia Plum; Mrs. Zambrano: Chemistry; and Mrs. Suskauer: Health and Personal Fitness."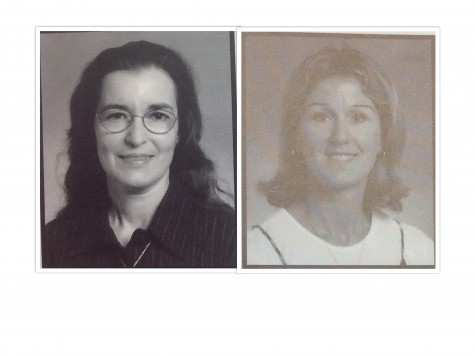 If you could do anything to change/ fix Academy what would you do?
"I mean it seems like we have everything and we can say, 'We want this.' and we have it.  The new parking garage and theater are going to be awesome.   I truly don't know because we already have so many amazing things."
What do you want your legacy to be as an administrator?
"I want to know that I gave back to you all what my teachers and administration gave to me.  When I left here, I was ready to go to college and be prepared emotionally and socially.  I just want to impact my girls who graduate from here.  Even if just one girl comes back and says, "I had a positive impact by at least one person," that would be amazing."
"My senior lounge was covered in posters from all of those girly teen magazines and boy bands were the huge scene.  I love it when you girls play all of my throwback jams that take me back to the days of being a student.  N'SYNC was the jam."
Academy girls are so happy about this new change and have been welcoming Krukar with open arms.  She knows exactly what the girls like and are able to relate to them when times get tough.  Everyone is looking forward as to what is to come next of Erin Krukar.