Intro to YETI: Built for the Wild
YETI Ramblers are making a remarkable impression on Academy girls, but why? What is so great about these cups that girls are spending $40 on them and more?
In 2006, brothers Roy and Ryan Seiders created the YETI cooler, a durable, heavy-duty cooler that can withstand just about any wilderness experience. With the cooler, the YETI Rambler was established, an advanced personal drink cooler.
The YETI Rambler is crafted from kitchen-grade 18/8 stainless steel with double-wall vacuum insulation and maintains  ice twice as long as plastic tumblers — and it works just as well for hot beverages. Not to mention, the lid is shatterproof and dishwasher friendly! Because of these endless, progressed features, Academy girls have been swarming to these tumblers.
The most desirable attraction is "how it keeps your drink cold for hours" comments senior Grayson Garraty. "It keeps coffee hot for almost an entire school day" adds senior Olivia Kirkpatrick.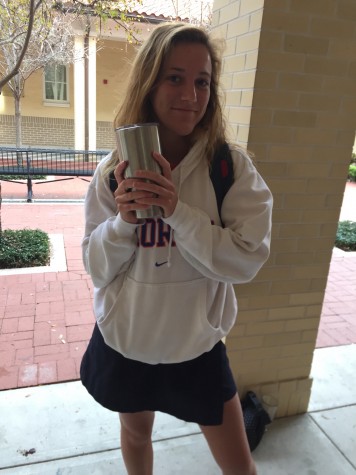 Keep an eye out for these bright, silver tumblers distributed throughout the school, as they are a rapidly growing trend! To learn more, visit YETI's website, which contains the patented technology that molds this revolutionary tumbler as well as the accessories designed for them.