Ivy Park Is Here – Beyoncé's New Activewear
Ivy Park — the new activewear label co-founded by Beyoncé — is revolutionizing the game in sportswear. By mixing high performance technical styles with fashion-led casualwear, Ivy Park is inspiring others to stay strong, to stay healthy and to stay happy regardless of one's sporting ability or body shape. Something that makes this brand so unique is that it isn't just a sports kit — it's a whole lifestyle, with clothes that perform both on and off the field.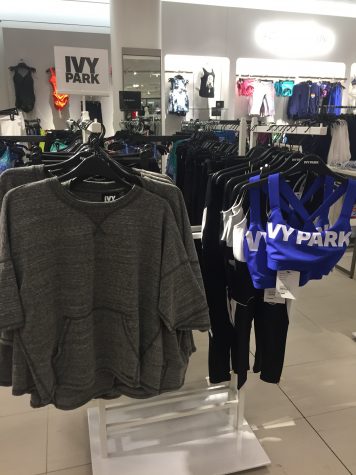 On April 14, 2016, the 200-piece collection was launched and available worldwide on the line's website as well as at retailers including Topshop, Nordstrom, Zalando, Selfridges, JD Sports, Net-a-Porter and many more. That same day, Beyoncé released a promotional video that gives viewers a glimpse of her workout routine, samples of the clothing line and a narration explaining the origin and significance of the brand and its name; Ivy, representing her daughter, Blue Ivy Carter, and Park, representing Parkwood Park in Houston. Parkwood Park is where Beyoncé used to seek personal strength and exercise as well as find inspiration for her music.
The Core Kit
Technology embodies the very creation method at Ivy Park. Every article of clothing was created by experts in high-functioning sportswear, with each piece merging performance and comfort. The range centres on a core assemblage of sports staples that will appear every season: leggings in three shapes, bra tops, tank tops, sweatshirts and technical jackets. These signature items are the building blocks of one's activewear uniform, designed to mix and match with the rest of the collection.
A Look Into the Collection 
Oversized Logo Hoodie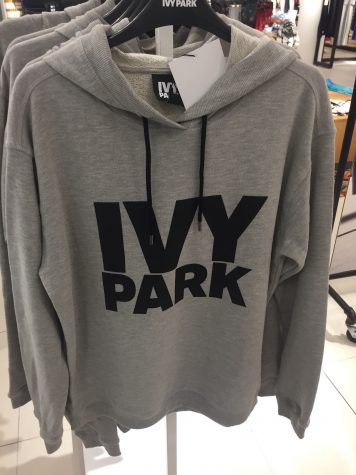 Up-spec your off duty wardrobe with the oversized hoodie. This oversized pull-over style is detailed with a relaxed hood for an everyday feel and a stacked Ivy Park logo motif to the chest. The material of this hoodie is very soft and also lightweight.
"This hoodie is surprisingly breathable and not heavy. It's brilliant for lounging around the house and I absolutely love it!" exclaims senior Olivia Kirkpatrick.
Logo Mesh Tee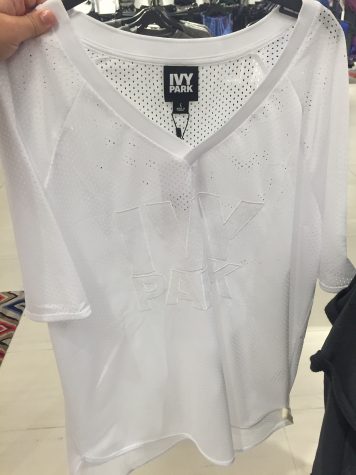 The tee is a staple piece for sports-inspired cool and this oversized style blurs the lines between comfort and style. This piece works perfectly layered over a sports bra for a workout or worn casually for everyday sports-cool. The material of this tee exudes a distinct basketball vibe and makes layering very easy with an oversized fit!
Its relaxed silhouette makes it perfect for a "breathable feel," comments junior Camille Opp.
Logo Detail Slim Leg Jogger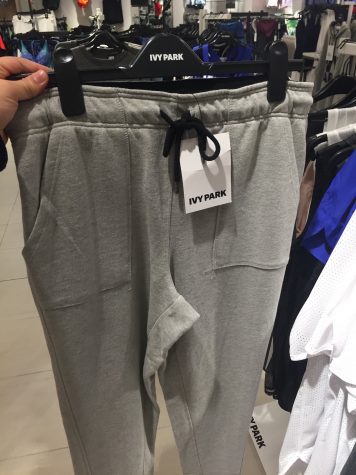 The slim leg jogger elevates off-duty style. Crafted in a super-soft jersey blend for the most optimal quality, this casual style comes detailed with an internal logo to the elastic waistband that folds down for optional styling. Side seamed panels and ribbed cuffs keep the design relaxed for an everyday feel.
"I love the contrasting block Ivy Park logo on the leg — it really finishes the look. The joggers would go wonderfully with the oversized hoodie," rejoices senior Mckenna Davey.
Whether you're running your first 10k or shopping in town – Ivy Park looks cool on and off the sporting field. The hexagonal prints, double-faced leggings and even the baseball body suit make for an impeccable assemblage of exclusive, classical clothing.