Graduation gifts to consider
The perfect gifts for the perfect grads!
Graduation is coming up and gifts are always a difficult part of the process. So many choices come up and most likely, you have more than one person to buy for. But don't worry! Here is a list of different types of graduation gifts to buy depending on what best fits.
DIY Gifts
Homemade gifts are not such a bad idea if the right project is chosen. DIY Graduation gifts are a perfect way to not spend much money but still show your friend or family member that you care about them.
Chalkboard Frame
All this takes is a wood plaque, a smaller wooden picture frame, and some chalkboard spray paint to create a Frame to hold the memories from the Graduation ceremony or any step along the way.
Home State Cutout
A memory of Tampa can be brought into a girl's dorm room through three simple steps of cutting out Florida and putting it on cardboard, painting it how you like, then drawing heart in the city of Tampa.
College Survival Kit
This gift can be made more personal than others. On a survival kit, the possibilities are endless because there are so many themes to use. Whether it's filled with food and recipes that will come in handy or life lessons to learn, a grad will always appreciate having it around in times of need.
T-Shirt Quilt
Many girls around Academy know this one, because it's a classic that will always be loved. Any t-shirts that girls have can be sewn onto a quilt to bring to college, whether it be Academy t-shirts or any sport's t-shirts.
From the Heart Gifts
Collage for Dorm Wall
Just a simple collage of pictures of your experiences with that person could make their day when walking into their dorm after a hard class or an exhausting test.
Scrapbook
The same idea of a collage, just some more pictures is a scrapbook. This will take a little more time and probably cost a little more money, but it will hold a lot more memories.
According to Junior Haley Schumann, scrapbooking "is always fun for both sides because you get to look through all the memories you have shared with people."
Whether you have been friends with the grad for a lifetime or met in high school, a scrapbook will be cherished to look back into when they miss you.
Cook them a Meal
Sometimes, all you need to give a grad is just a nice home-cooked meal instead of spending money to give them something to take after graduation. Put together their favorite meal and spend time with them before they leave, because those moments will become fond memories once they leave. Cooking for them will also show them how much you care because a meal is not something easy to whip up.
Mix CD
Another gift that will be cherished is a creation of a Mixed CD with all of the grad's favorite songs from over the years. Throw together a mash of some of the best Disney songs that you've enjoyed to the rap songs that you both know every word to, and it will be a present the grad will never forget.
Expensive Gifts
FitBit
For either a family member or a really close friend, if you are willing to splurge on their gift, then a FitBit is a great way to go. From tracking your sleep to counting your steps, no matter what activities you do throughout the day, a FitBit is the craze.
Senior Remi Storch exclaims that she uses her FitBit "all the time, I honestly don't know what I would motivate myself with if I didn't have it."
Just make sure the grad does not already have one, because they are very popular!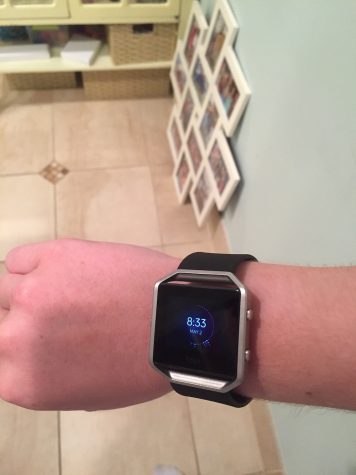 Bike
Most college campuses don't let underclassmen have cars, so a perfect gift to give the grad to bring to college is a bike. It is an affordable and healthy way of transportation around the overwhelmingly large college campuses.
Noise-Cancelling Headphones
Spending a lot of time in the Library during college is inevitable. In order to ensure that there are no distractions, you can buy the grad a set of noise cancelling headphones. With these, even if there is sound, then the noise is cut out and they can continue studying in peace.
Laptop
Another gift that is basically only restricted to a family member or very close friend is a laptop. Laptops are a must in college and if the grad does not have one yet, then it would be one of the most useful gifts you could buy them.
Handy Gifts
Wall Clock with Hidden Safe
No matter where you are, safety is becoming more important as crimes start to become more prominent. Buying a wall clock that looks simple, but really having a hidden safe in the back of it will ensure that their stuff will be kept safe through all occassions.
Book on Financials
As the grad enters a world without relying on their parents every day, they have to learn how to handle their own financials. A helpful book laying out everything they need to know will make sure that they are taken care of and prepared for the reality of life.
Bulk Flash Drive
Too many times you hear of a student losing all their work off their computer, so a bulk set of flash drives will ensure that they will never lose another paper again.
Funny Gifts
Money in a Frame
Putting money in a frame with the word "Emergency" above it is a funny way to provide the grad with some backup cash for tight situations. The amount of money does not matter and both pennies and dollar bills can be used, it will just serve as a handy decoration on the dorm wall that will give them a smile when they see it.
Encouragement Books
College can be hard, draining, and helpless sometimes so buying them a book of encouragement will give them a laugh as they are stressed. A book of encouragement does not just have to be a bunch of inspirational quotes, it could also include a coloring book to calm them down. There are many encouragement books that can be found based on the theme you are looking for.
Inside Jokes
The most valuable and loved gifts to make the grad laugh are the inside jokes that you have with them. Think of any inside jokes that you two share and think of how it could be made into a gift for them to enjoy.
Freshman Molly Fleming shares that "no matter what friend or family member I am buying for, my favorite gift to get is something with our inside jokes because it makes them laugh and know a lot of thought was put into it."
This will make them smile the brightest because it shows more thought and exhibits a personal experience that you shared with them.
No matter what direction you go in for the gift, the grad will appreciate the effort and care that you put into making their graduation special. This is a big moment in their live and sharing it with them will be the best gift of all for them.