fab'rik: South Tampa's Latest Boutique
With only a few small boutiques in South Tampa, it was about time for a new addition to the area. Found in Carriage Trade Plaza (1902-A S Dale Mabry Hwy), "fab'rik" is the new go-to shop. Frequent shoppers at Keys Country and D'Lites may have seen fab'rik's new home beside Fitlife Foods. With clothes, shoes, and accessories galore, the shop is perfect for any AHN gal. The store has been open for less than two months, but is already taking over South Tampa.
fab'rik is a franchise, meaning there are other locations nationwide; 42 to be exact. The company lives by their motto "High style, with heart, no attitude of sticker shock." The store is especially perfect for teens because it is affordable while still on-trend. Everything sold in fab'rik is under $100, except for high-end denim. On Tuesdays, students and teachers get 15% with a school ID. How can you beat that?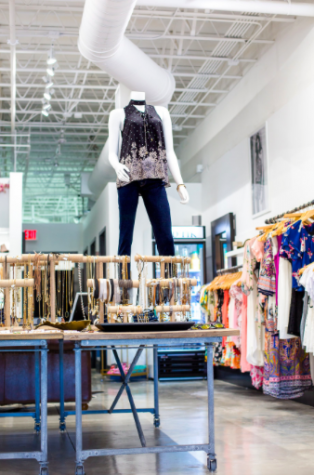 fab'rik South Tampa franchise owner and manager Andrea Tuggle is the definition of a "girl boss." After working as a teacher for years, she left the classroom behind to pursue her lifelong dream of owning her very own boutique. She is proud to show her young daughters, Ainsley 5, Peyton 2, the power of a strong woman with ambition.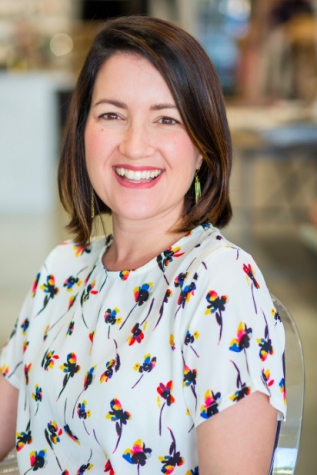 Tuggle explains, "It was something I had always wanted to do. I just decided, why not now?"
Tuggle built the store from the ground up and is achieving the company's vision of creating boutiques where everyone can afford to feel beautiful. Each employee is a trained personal stylist, whether customers need to find a specific statement piece or redo their entire wardrobe.  In-store stylist Elizabeth Dugan thinks Tampa high schoolers will fall in love with the store the second they walk in.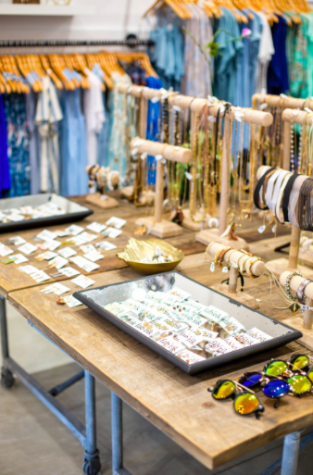 Dugan explains, "We are always getting new inventory, everything is a great price point, and every piece is on trend with the latest styles. I love working here because it is so versatile and there is something for absolutely everyone."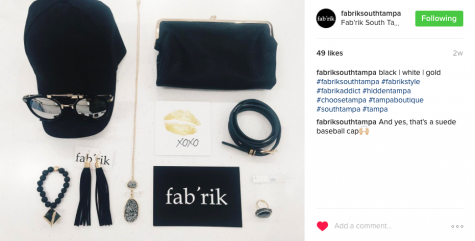 fab'rik is also very involved in the community. With their program "free fabric", women can bring in their gently used clothes for women in need within the Tampa Bay area. These clothes go to women at domestic violence and trafficking shelters, along with many other important organizations. Rather than simply sending the clothes in a box, the store closes for a day and invites the women in for their very own shopping spree, minus the tags. This allows the women with something many often take for granted; a day out shopping. In addition to free clothes, hair stylists, and makeup artists come in to give the women full makeovers. It is something small but means so much to the women living in the Bay area that are in need.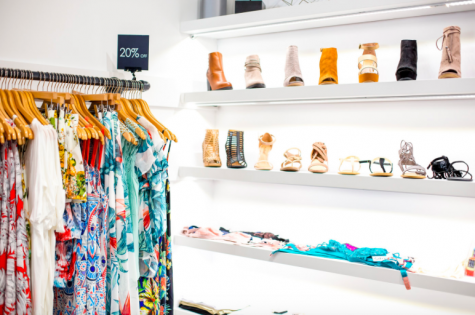 Some Academy girls have already discovered the new shop, whether they are a dedicated instal-follower or have visited the store itself. Junior Kayla Eckermann dropped by the store and fell in love.
Eckermann states, "Overall I liked the atmosphere of the store. The people were super nice and the clothes are really trendy. I purchased a pair of cute cotton shorts!"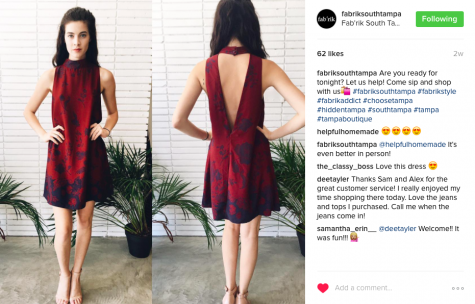 By following the store's Instagram, fab'rik shoppers are updated with all of their newest arrivals and sale dates. If a customer sees something in a post she loves, she can simply comment and the girls will hold it in store. Pop in and shop, AHN students may find a fellow Academy girl working at fab'rik as a personal stylist…