Costa Rica Mission Trip: Costa Rica Viajero Misionero
The town of Samara is located on the Nicoya peninsula of Costa Rica. The academy girls who attended the Costa Rican mission trip worked with a non-profit organization called CREAR. CREAR is a program that focuses on english development, creative and artistic expression, and women empowerment.  CREAR assigned the academy mission trip to three projects to have completed by the end of the week. These projects are painting two churches inside and out and building a recycled tire park.
La ciudad de Samara se encuentra en la península de Nicoya en Costa Rica. Las estudiantes de la Academia, que asistieron al viaje misionero de Costa Rica, trabajaron con una organización sin fines de lucro llamada CREAR. CREAR es un programa que se centra en el desarrollo de inglés, la expresión creativa y artística, y el empoderamiento de las mujeres. CREAR asignó el viaje de misión de la Academia; tres proyectos que las estudiantes completaron al final de la semana. Estos proyectos incluyen: pintar dos iglesias por dentro y por fuera y construir un parque con llantas recicladas.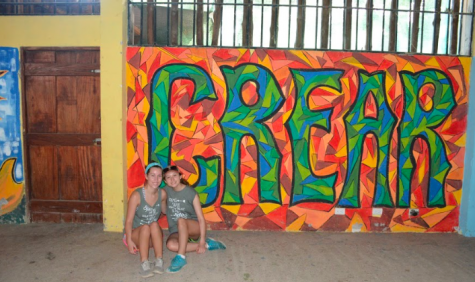 The first church was located in a small rural town hidden in between the mountains. We painted both the inside and the outside of the church with limited use of water. The missionaries packed their own lunches everyday after breakfast. Lunch consisted of a nutella and peanut butter sandwich, an apple, and chips.
La primera iglesia estaba ubicada en un pequeño pueblo rural escondido entre las montañas. Las misioneras pintaron el interior y el exterior de la iglesia con agua limitada. Las misioneras empacaron sus propios almuerzos todos los días después del desayuno. El almuerzo consistió de un sándwich de nutella y mantequilla de maní y una manzana con patatas fritas.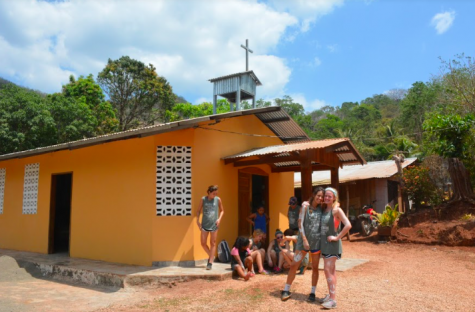 Myah Rhines ('19), "I wanted to go to Costa Rica because first, I wanted to travel somewhere out of the country, and second, I saw the pictures from last year's trip. I would definitely go again next year and there is a good possibility that I will attend next year. My Spanish definitely improved on this trip and I loved being able to interact with the kids and translate their sentences to those who didn't know Spanish. My favorite part of the trip was definitely the day when we got to play with the kids. It was the day after three days of vigorous work, and seeing the kids really helped us to stand proud for the service we had accomplished."
Myah Rhines ('19), "Quería ir a Costa Rica porque primero quería viajar a algún lugar fuera del país y en segundo lugar, vi las fotos del viaje del año anterior. Definitivamente volvería el próximo año y hay una buena posibilidad de que asista el próximo año. Mi español definitivamente mejoró en este viaje y me encantó poder interactuar con los niños y traducir sus oraciones a aquellos que no supe en español. Mi parte favorita del viaje fue definitivamente el día en que jugamos con los niños. Fue un día después de tres días de trabajo vigoroso, y ver a los niños realmente nos ayudó a estar orgullosos del servicio que habíamos logrado."
The second church was located just a couple down the mountain from the first church. The missionaries completed the church in one day. On the third day CREAR organized for the Academy missionaries to build and paint a recycled tire park on the ledge beneath the church that overlooks the kids soccer field.  
La segunda iglesia estaba ubicada cerca de la montaña y la primera iglesia. Las misioneras completaron la iglesia en un día. Por la tercer día, CREAR organizó para las misioneras de la Academia la tarea de construir y pintar un parque de llantas recicladas en la cornisa debajo de la iglesia que da el campo de fútbol para niños.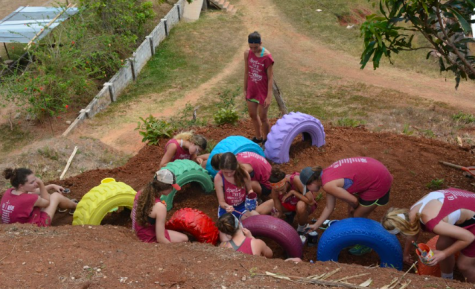 On the fourth day the missionaries were able to play with the little kids in the rural community of Chinampas. The day was full of soccer and coloring and a lot of smiling. Having to leave the children was very hard for the missionaries.
El cuarto día, las misioneras pudieron jugar con los niños pequeños en la comunidad rural de Chinampas. El día estuvo lleno de fútbol, ​​colores y mucha sonrisa. Tener que dejar a los niños fue muy difícil para los misioneros.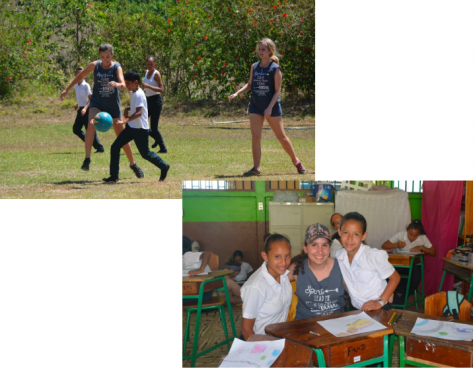 The next day the missionaries woke up early to see the sunrise and then went for a hike to the "secret spot." Along the hike the missionaries met a couple of furry friends who accompanied them to the spot. Pumpkin and Piper are two dogs who belong to a man who lives at the bottom of the hike. Whenever hikers pass by Pumpkin and Piper join them on the entire walk. They will even go for a swim with the hikers.
Al día siguiente, las misioneras se levantaron temprano para ver el amanecer y luego fueron a una caminata a un "lugar secreto". Durante la caminata, los misioneros se encontraron con un par de amigos peludos que los acompañaron al lugar. Pumpkin y Piper son dos perros que pertenecen a un hombre que vive al final de la caminata. Cuando los excursionistas pasen por Pumpkin y Piper, únete a ellos por toda la caminata. Incluso irán a nadar con los excursionistas.