How to Get the COVID-19 Vaccine
May 3, 2021
On Apr. 5, the Florida Department of Health began allowing all adults, as well as 16 and 17 year olds, to receive the COVID-19 vaccine. Currently, the Pfizer vaccine is the only one approved for 16 and 17 year olds.
To stop the spread of COVID-19, it is vital that children be vaccinated as well. Now that older teenagers can get vaccinated, it's important to know how and where to obtain a vaccine.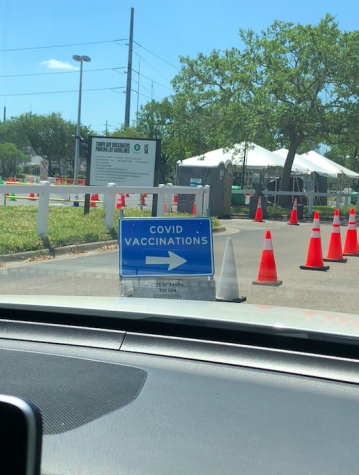 At the federal level, there are FEMA-sponsored vaccination sites across the country.There is one in Tampa at the greyhound track on Waters Avenue. It is open from 7AM to 7PM, and an appointment is not needed to receive the vaccine. The FEMA site will now be carrying the Pfizer vaccine after the pause on Johnson & Johnson's vaccine, and only adults 18 and over are eligible here. 
"I decided to go to the FEMA site the day it opened for 16 year olds. I did not need a reservation and it was so easy. I was in and out in about 40 minutes," said Riley Griess ('23).
On the state level, there are two state-sponsored sites, at Raymond James Stadium and the Children's Board on Palm Avenue. Raymond James will be open 8 AM to 7 PM daily, while the Children's Board will be open 9 AM to 5 PM daily. Note that the Children's Board will not be providing vaccines on the 4th Thursday of each month and May 14. These sites are carrying the Pfizer and Moderna vaccines. An appointment is not needed to be vaccinated here.
For 16 and 17 year olds to be vaccinated at these sites, there are a few requirements. Firstly, a parent or legal guardian must be present with the teenager. Secondly, before the vaccine can be given, a consent form must be completed and signed by a parent or guardian. This consent form can be downloaded from online, or received at the vaccination site.
"Having done research, the process was pretty easy for me! I initially registered on the website hoping to get an appointment, but after a few days of waiting for an email I just decided to go to Raymond James Stadium early one morning because they don't require any scheduling. They just did the shot through the window, and I had to wait about 15 minutes in case I would have any side effects. Overall, it was a super simple and quick process for me!" said Aspen Hunter, ('23).
On the county level, there are four Hillsborough County-sponsored sites: Ed Radice Sports Complex, Larry Sanders Park, Vance Vogel Sports Complex, and TPepin's Hospitality Centre. The first three locations listed are drive-thru, while the TPepin location is walk-indoors only. An appointment is needed to be vaccinated at these locations, anyone without an appointment will not receive a vaccine. To make an appointment, visit patientportalfl.com and make an account.
"I had a good experience. We walked in and filled out some forms. My parents had to fill out and sign most of mine as I was under 18. We walked in after they checked our forms and I got place with a very nice lady who did a basic explanation of what I should do if I feel sick afterwards and some of the side effects. It was easy, well laid out, I knew exactly what I needed to be doing, and if I didn't the people were very nice and would have helped me," said Cassandra Sobus ('23), who received her vaccine at the TPepin's Hospitality Centre.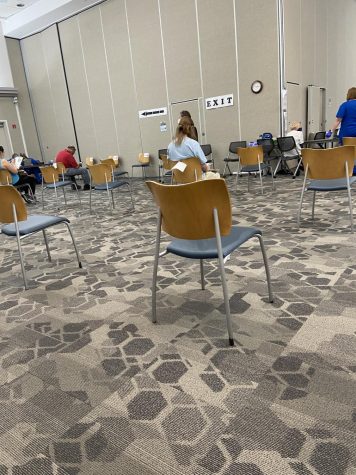 After making an account, an appointment can be set up for vaccination and testing. For 16 and 17 year olds, the protocol for being vaccinated is the same as the state sites: a parent or guardian must be present, and a consent form must be completed before the vaccine can be given. 
After receiving your vaccine, you will be given a vaccination card. This card is important, so be sure to keep it in a safe place. The vaccination card will have the details of your vaccination, such as manufacturer, patient name, and patient ID, amongst other things. It also has a reminder to return for a second dose, and the date that you should come back will be scrawled on it.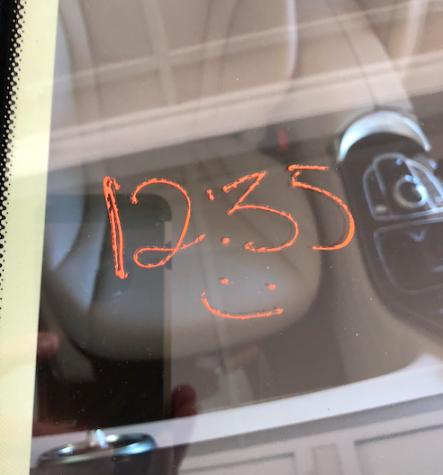 There are also some added bonuses with a vaccination card. Krispy Kreme currently has a promotion, where you can bring your vaccination card and receive a free glazed donut. This promotion is valid for everyday for the rest of the year, so one could come back every day for a free donut, if they wanted. Staples, Office Depot, and Officemax are all offering to laminate your vaccination card for free, however, it is not recommended to do so, in the case of a booster shot being needed, and the heat can smear the ink. If you really want to get your vaccination card laminated, instead bring a copy of it to be laminated, and hold onto the real one.