Jimmy Buffet was a singer, songwriter, businessman, and honorary beach bum who influenced people's view of life. At 76, Jimmy Buffet lost his battle to Markell cell cancer on September 1, 2023, at his home surrounded by his close friends and family. Jimmy Buffet is a singing icon who has forever changed pop culture, and his philosophical ideals will forever be part of many coastal beach communities here in Florida. 
Buffet understood that most Americans work long hours in places they'd rather not be, leaving them emotionally drained and dreaming of a better life by the beach. Buffet acknowledged that his songs spoke directly to this sentiment in an interview with the Republic, where he noted that his songwriting style was "…pure escapism is all it is….I think it's part of the human condition that you've got to have some fun. You've got to get away from whatever you do to make a living or other parts of your life that stress you out." 
Buffet's songwriting philosophy was a product of his youth and upbringing along the Gulf Coast. Buffet was born in Pascagoula, Mississippi, and raised in Mobile, Alabama, in a family of adventurers and storytellers. His grandfather was a steamship captain, and his father traveled to Africa and India with the Army Corps of Engineers. The Gulf of Mexico was a constant part of Buffet's life and a "…doorway to a world of adventure where the characters he heard about in his grandfather's stories were waiting to be discovered," Jimmy Buffet's website noted. Buffet started in music during college when he learned to play the guitar. He then used this talent to help pay for his expenses when he began working as a street musician in New Orleans on the weekends. This experience led Buffet to grow an interest in pursuing a musical career. 
While critics mostly scorned Buffet's musical style, his storytelling approach to songwriting and easy-to-sing-along lyrics made him one of the most successful artists of his generation. Buffet profoundly influenced country music artists like Zac Brown and Kenny Chesney and built a business empire centered around his Margaritaville brand. Buffet acknowledged and rebuffed his critics in an article with the San Diego Tribune, saying, "I'm not a great singer, and I'm not a great guitar player.  But I'm a good entertainer…I listen to my audience.  I connect with my audience." Buffet's approach certainly resonated with his audience. When Buffet tragically passed away earlier this month after battling an aggressive form of skin cancer, Buffet's fans decided, instead of mourning his loss, to celebrate his life like he always encouraged people to do. 
Although many mourned Buffet's death, many communities banded together to commemorate his life and celebrate the legacy he left behind. Key West, Florida, was Jimmy Buffet's home for many years and the place that inspired many of his most successful songs, including his signature hit "Margaritaville." On September third, after the news of Buffet's death came out, thousands of Florida Keys residents gathered on Key West's Duval Street to celebrate his life and influence on Key West. As the residents joined the parade, they held signs, danced, played the guitar, and sang his music, rejoicing and uplifting the entire community of Key West. 
The "Parrothead" community, Jimmy's beloved fanbase, not only were fans of his music but embraced his "island escapism" lifestyle that he lived out and promoted to many others. The Emerald Coast Parrot Club was established in Destin, Florida. They are a "non-profit organization with a mission to promote social and civic activities for people with similar interests & centered around the tropical spirit of Jimmy Buffet's music," said the Emerald Coast Parrot Club website. The Club works to serve and support the Destin community through volunteering, fund-raising, and many other events that incorporate the philosophy of Jimmy Buffet.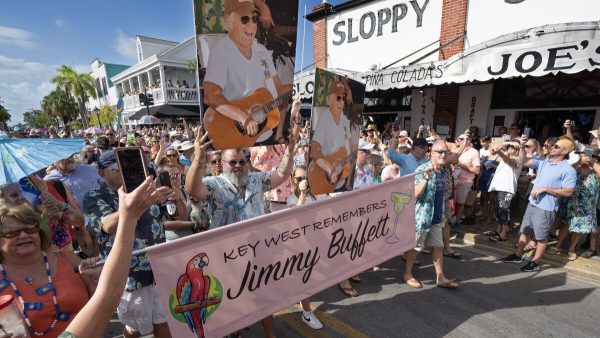 While he lived in Florida, Jimmy Buffet was a big activist for the climate and protecting the manatees. In 1981, Buffet and Florida's former Governor, Bob Graham, formed the Save the Manatees Club. The Club aims to protect endangered manatees and their aquatic habitat for future generations by educating and raising public awareness. The club conducts research, sponsors rescues and rehabilitation, and advocates for improved protection measures for manatees. 
Jimmy Buffet's influence on communities in Florida and his influential legacy on how people view life will forever live on. Buffet was not just a singer but a friend to many who used his storytelling skills to connect with his audience and make them feel like his music was their own.