iOS 7: What to expect on the iPad
Say goodbye to the old iPad format and get ready to update to iOS7! Sometime next week, Mrs. Collins will email the entire school, announcing to the student body that it is okay to perform the software update. Although everyone is excited to see the new format, administration has been more cautious in updating, following last year's wipeout of Notability some students experienced after they updated from iOS5 to iOS6. Some students have already updated their iPad, sharing with their friends what new features are available. Here are the new design features and apps that will be coming to you soon.
Apple's main mission was to create a design that was simple. According to them, "No detail, is just a detail." All of the app's new icons have a little less dimension, but iOS7 makes up for it in the dimension the update has on the iPad as a whole. Calendar, Mail, Notes, Clock and virtually every other app underwent a makeover. They still have the same purpose, but it looks more basic and easier to use. The notification center has also been redesigned. It will allow users to apply settings to their device that was only previously seen through the Settings app. This will let a student apply "Do Not Disturb" mode or Airplane mode with an easy swipe of the finger.
Not only does the iPad remodel itself, but there are new apps as well. You can finally delete your flashlight apps that take up so much space. It is now an option in the notification center to use your camera flash to guide you through the dark. Speaking of camera features, your photos can include filters without having to go through Instagram or any other software. If you want even more gigabytes on your iPad, you can delete Pandora because you will get iTunes Radio instead. However, a student, who will remain anonymous and has already downloaded iOS 7, believes that iTunes Radio has "way more commercials than Pandora" and "could never compare."
The differences between your iPad now and how it will be are endless. With the makeover, the new apps, and new features, Apple has progressed itself far beyond the normal operating system. With the update, other apps you already have will redesign and update itself to fit the iOS 7 setup. Change is always exciting, and once we're allowed to update the iPad, everyone is definitely going to love it.
Leave a Comment
About the Contributor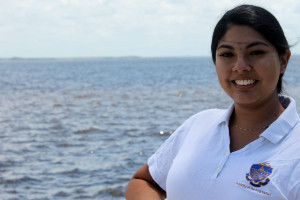 Sam Vargas, News Editor
Sam Vargas, a major contributor to the Golden Veins section of Achona as a student in Creative Writing in Fall 2012, joined the Honors Journalism Class...