Open House welcomes AHN's expanding family
Despite a minor mishap, Academy's annual Open House for prospective students went off without a hitch. The day started at noon on Sunday, November 3. Academy's administration worked with current students to make the day run smoothly. While the fire drill caused by a curious toddler pulling the fire alarm was definitely unexpected, Open House still did a great job of showing off Academy's charm.
After everyone was ushered into Academy's Brady Center on Sunday afternoon, the families were welcomed by members of AHN's administration. They took the time to share some personal experiences from their time at Academy as well as the school's mission and goals for students.
Girls from the Ambassadors then led small groups around the school. They made stops in various classrooms to hear from Academy's different academic departments. The Language Department served tasty treats, while the Science Department performed experiments in the lab. Prospective families were also given the opportunity to visit other places on campus, such as the chapel to learn more about Mission Trips and Academy's focus on faith. Senior Cassidy Gourley enjoyed getting to lead one of the tours. "The fire alarm was a fun twist, but we all recovered well and had a great day overall."
One of the highlights of Open House was the Q&A session led by AHN's Student Council. While parents were invited to ask questions of a panel composed of Academy seniors, their daughters got to spend about twenty minutes doing different ice-breakers and activities. Senior Student Council member Rachel Astorquiza loved getting to help at Open House.
"It was really fun getting to make the girls feel awkward in the typical, fun Academy way. They got their first taste of the next four years."
The Academy community did a great job of helping out with this event. Everyone came together to make Open House a success. The teachers, students, athletes and everyone else who played a part in representing AHN really helped give prospective students a glimpse at Academy life.
Leave a Comment
About the Contributor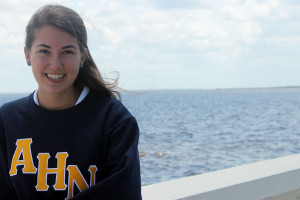 Sarah Elliott, Copy Editor
Academy senior Sarah Elliott has been a part of the Achona staff for two years now. Her hobbies include tennis and recreationally organizing anything....