Underclassmen athletes attain achievements
With the fall sports season coming to a close and the winter season starting up, senior athletes take advantage of their high level on the hierarchy. The underclassmen athletes, however, know that they will soon step up as leaders of their respective teams come next year. A few of these athletes have already shined in their sport and were recognized early in the year for their achievements.
The Tampa Bay Times hosts a "Hot Shot of the Week" where student athletes are nominated and run for the title with the help of votes from peers and family members. Sophomore Olivia Kirkpatrick was nominated for her swimming achievements on the week of September 14. Although she did not win, Kirkpatrick has received multiple swimming titles. She has broken school records on the 100 meter backstroke and the 50 meter freestyle. Juniors Alex Nuyianes and Julia Cogdill pose to help the swim team next year, both participating with Kirkpatrick and senior Margaret Shumake to break the 200 meter medley relay school record and placing third at states.
Co-captain senior Shae Timmons is confident the team will continue its success next year. "The team is going to be so united. The juniors truly stand together. They'll make amazing captains."
Volleyball also has a great selection of underclassmen to lead the team next year. Junior Courtney Vogler won the title of "Hot Shot of the Week" for the week of October 19 and has verbally committed to the University of North Carolina at Chapel Hill. With her classmate, junior Becca Prossen, the junior teammates are ready to lead next year's volleyball season as a domineering senior duo.
With the graduation of their seniors, the cross country team will be losing some valuable players that it has gained throughout the years. However, junior Colleen Doherty has been a member of the team for years and is already co-captain of the team. She will continue being captain next year and her senior teammate, Becca Patterson, is not worried whatsoever. "She is an amazing and driven runner. She works really hard and motivates her team members as well as herself. She is already an amazing leader to the team."
This year's soccer team has been warming up and has had an unprecedented undefeated season. When last year's goalie Cara Millburg graduated, the team was concerned with finding a new goalie. Fortunately, freshman Kendall Catone has proven to be an amazing addition to the team and has already received the "Hot Shot of the Week" title for the week of November 23. Captain Alana Adams is a firm believer in this young soccer player's potential. "[She] is a strong player as a freshman. So she'll be able to lead the team. She basically already does."
Academy's basketball team is climbing through the ranks with the return of previously injured senior Ashley McWilliams. However, as her and "Hot Shot of the Week" nominee Cristina Snyder graduate, the team will be left in the hands of a good group of juniors. Olivia Diaz, Colleen Doherty, Siobhan Lynch, and Caroline Kimbler show just enough potential to lead next year's team. Kimbler is already a co-captain of the team with Snyder and McWilliams.
Senior player Natalie Hahn only has good words about this leader. "Caroline is very hardworking. She is focused and never gives up. I can always text her with any questions I have about practice. She is on top of things." Freshman player Devin Folkman also shows energy and potential on the team. She is one of the team's starters and will surely progress throughout her years playing basketball.
Four seniors have finished their last high school golf season, and junior Bailey Boesch prepares to become the captain of the small golf team. During this year's fall banquet, Boesch received the Most Improved Player award, proving that she is able to carry the team for the following year.
Academy's athletes prove that they are a force to be reckoned with. Their dedication, determination, and loyalty towards their game has led to the titles they have received and their numerous successes. Under the wing of their senior leaders, the underclassmen are sure to continue the dominating effect their teams hold as they become captains themselves.
Leave a Comment
About the Contributor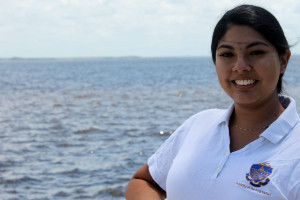 Sam Vargas, News Editor
Sam Vargas, a major contributor to the Golden Veins section of Achona as a student in Creative Writing in Fall 2012, joined the Honors Journalism Class...