Florida's Gubernatorial Race is Quickly Coming to an End
On November 4, 2014, the race for Florida's governor will finally end when the voting begins. Right now, the leading nominees are unsurprisingly, Charlie Crist and Rick Scott. Both men have put tremendous amounts of effort and money into their campaigns, to hold on to, or in Crist's case, take back the position of governor.
In an article of the Tampa Bay Times, this gubernatorial race is referred to as a "$50 million-plus commercial spectacle", and only 29 percent of the total amount of money from both races combined is Charlie Crist's. That means that 71 percent of all the money invested into the campaign is Governor Scott's.
Both Charlie Crist and Rick Scott have an edge on their side; they both have held the position of Florida's Governor. Rick Scott is Florida's 45th governor and incumbent. When he came into office in 2010 he was a multi-millionaire health care executive and most of his spending for his campaigns have been out of his pocket. Governor Scott is and has been a part of the Republican Party. Charlie Crist was the 44th Governor of Florida and instead of running for re-election against Governor Scott, he ran for a seat in the Senate. When Crist lost to Marco Rubio, he then tried once more to run for another seat. He lost again except this time he was in a three-way race and shortly after he changed his political party from Independent to Democrat.
According to the Huffington Post, in the beginning of this commercial spectacle, Rick Scott was not favored to win. Charlie Crist had a lead on Scott of almost 12% on January 11, 2013. As of May 21, 2014, Scott pulled ahead of Crist by 1%. Since then Crist's numbers have continued to decline and Rick Scott's are growing higher. By September 24, 2014, Rick Scott was favored over Crist by 3% and there was a 56.1% chance that Scott could win against Crist.
There is almost a month left until Florida votes and there are many possibilities as to what may happen on the polls, but, there is a tight deadline and a lot of money left to be spent and people to please. We have been given the opportunity to see how both men govern and what they believe in, which, in the future, could be beneficial and/or harmful to them in their gubernatorial bid. The future of Florida heavily relies on the governor and right now the race between Crist and Governor Scott is too close to call. Somehow they need to distance themselves from each other on the polls but, at this point, they are running out of time.
Leave a Comment
About the Contributor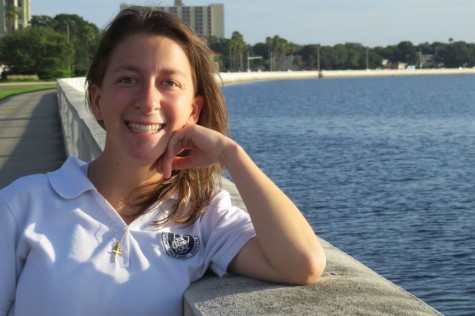 Jeanine Ramirez, News Editor
Jeanine Ramirez is an Academy senior, fourth-year journalist and the News Editor for the Achona. Following her interests in the social sciences, Jeanine...