Football, Soccer and Homecoming Queen In One
Senior Mary Kate Smith, of South Jones High School, is not only the school's homecoming queen, but she is also the first girl to make the varsity football team. So not only will she be wearing a crown on the court, but a helmet on the field.
Mary Kate is also already committed to play soccer at the University of Southern Mississippi, and had always been told to tryout for varsity teams' kicker. She had a 35-40 yard kick which really impressed the coaches, and they knew they had a starter on their hands.
"It's not like we have a girl out there. We have a football player. And we've got us a real kicker now." State's head football coach Corey Reynolds to The Clarion-Ledger. Mary Kate's teammates have been nothing but supportive to the newest addition to their team. They treat her just like one of the boys.
She had already been voted homecoming queen before she even thought about trying out for football. It was only a week after she found out she was South Jones High School's homecoming queen, she decided to try out for the football team. "It is all very exciting" Mary Kate says to New York Daily News . "To be able to attend the pep rally, and play in the game, and also be homecoming queen."
Sophomore Ashley Lambert is certainly in awe, "I wish I had the confidence to play football and also be the homecoming queen….I can't even get a date to Jesuit homecoming!" And Junior Jade Meurer says, "She is such an inspiration to girls who get ridiculed for being girly, but also playing a 'boy' sport. She defies gender based stereotypes and if I could be a football player and homecoming queen I would."
Mary Kate loves the game and even shows a new respect for football players and the Friday night lights. But, on the last Friday of this month, she'll have to switch out her pads for a sparkling gown as she is crowned homecoming queen.
She is such an inspiration to girls everywhere gives them the courage to play a sport that are usually known as 'for men only'. She gives hope that you can do anything you want to and not care about what anybody thinks of it.
Leave a Comment
About the Contributor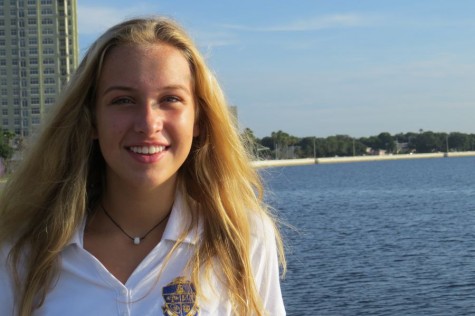 Grace Toups, Editor in Chief
Grace Toups is a familiar face around Academy. Whether she encouraged us to have more school spirit, interviewed us for Achona, or as an Ambassador she...