A brand does not define you: #askhermore
Throughout the years, journalists and reporters have constantly targeted their questions towards fashion by asking: "Who are you wearing?" to A-list female celebrities on the red carpet. At this year's Oscars, Reese Witherspoon decided it was time for the questions to focus on the woman's achievements in film rather than their style choice. The hashtag #AskHerMore, created by The Representation Project, is intended to inspire reporters to ask more creative and meaningful questions while interviewing the women of Hollywood.
Reese Witherspoon is one of the largest advocates for this movement among other celebrities, making a powerful statement, "We're more than just our dresses." Throughout the Oscars on Sunday night, this hashtag was trending not only from viewers, but also Witherspoon and many other great ambassadors. Due to the support this campaign received, it became a runaway success. Celebrities took to Twitter to express their thoughts on this movement such as Shonda Rhimes, Lena Dunham, Maria Shriver and Gloria Steinem.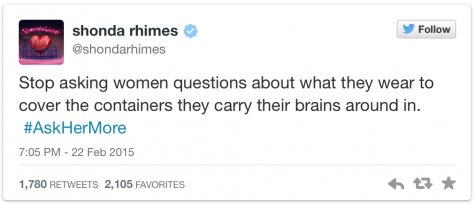 Thanks to the support from Witherspoon and other celebrities given via Twitter and Facebook, this campaign has gained traction. #AskHerMore has encouraged an increasing amount of brave women to stand up and voice their opinion on these stereotypical questions. Regardless of gender, age, race or sexual orientation, everyone deserves the opportunity to fulfill their full potential as an actor/actress, mother, father and motivator. "It's hard being a woman in Hollywood— or any industry," Witherspoon said. "This is a group of women… 44 nominees this year and we're so happy to be here and talk about the work we've done." A brand name does not define or empower you–it is simply a form of expression that represents one's likes and interests, which is what questions should be focused on.