Candidates Show Off During the 2016 Presidential Debates
On Wednesday, September 16, the GOP Presidential Candidates faced an eager audience at the Reagan National Library. The Republican Candidates had their first debate of the season discussing a large range of controversial issues. Such issues included the American border, America's relationship with Russia, and the funding Planned Parenthood.
The candidates that participated in the eight o'clock debate hosted by CNN were:
-former CEO of Hewlett-Packard Carly Fiorina
-former Governor of Florida Jeb Bush
-Florida Senator Marco Rubio
-Chairman and CEO of The Trump Organization Donal Trump
-Neurosurgeon Dr. Ben Carson
-Texas Senator Ted Cruz
-former Arkansas Governor Mike Huckabee
-Kentucky Senator Rand Paul
-New jersey Governor Chris Christie
-Ohio Governor Mike Kasich
The winners of the debate blew away the viewers with their witty responses and their sharp comments on the discussed topics. According to a CNN article covering the debate, Fiorina, Trump, and Rubio were the winners.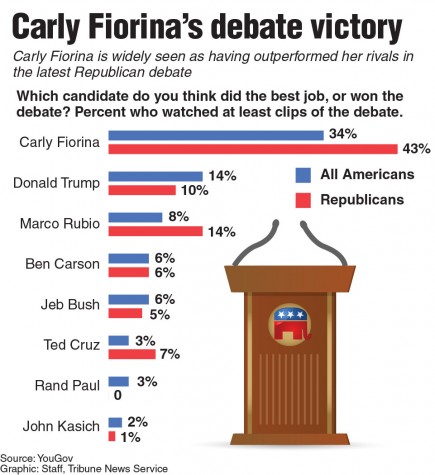 In regards to America's relationship with Russia, candidates were asked what they would do if they were President right now to stop Vladimir Putin from propping up al-Assad in Syria. Trump' s response, in short, was "I would talk to him. I would get along with him." Senator Marco Rubio explained that "He [Putin] is exploiting a vacuum that this administration has left in the Middle East," and added, "He is trying to replace us as the single most important power broker in the Middle East and this President is allowing it."
ICYMI: Most dangerous person in any room is person who doesn't know what he doesn't know. cc @POTUS #CNNDebate https://t.co/KcY1Kb7oDA

— Gov. Mike Huckabee (@GovMikeHuckabee) September 17, 2015
Carly Fiorina strongly expressed the opposite of what Trump believed as she went on to say that,"I wouldn't talk to him at all. We've talked way too much to him." As Fiorina listed what actions she would take, she stated that, "Vladamir Putin would get the message."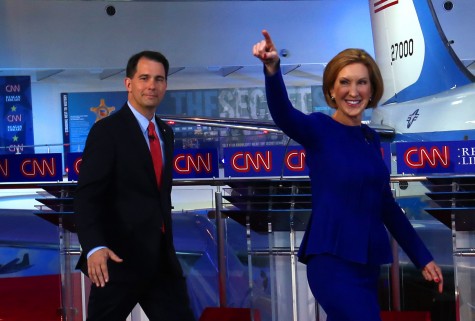 Among other issues was the topic of Planned Parenthood and whether the government should be able to fund them. Most of the candidates had similar views about funding Planned Parenthood however, because of the way that Planned Parenthood funding is tied to the government through a bill that was passed, a few of the candidates disagreed. Governor Mike Kasich pointed out that, "There are ways to do it without having shut the government down but I am sympathetic to the fact that we don't want this organization to get funding and the money ought to be reprogrammed for family planning in organizations that don't support this tactic."
Another candidate, Senator Ted Cruz, believes that "we shouldn't be sending five hundred million dollars of tax payer money to funding an ongoing criminal enterprise." Before the moderator had time to ask the next question, Fiorina forced out an answer and made a powerful statement against the funding of Planned Parenthood. She exclaimed that "This is about the character of our nation and if we will not stand up and force President Obama to veto this bill, shame on us." Jeb Bush then added that he was "the most pro-life governor on this stage." He discussed his history as governor and explained, "I got to act on my core beliefs. It's part of who I am. Life is a gift from God and from beginning to end we need to respect it and air on the side of life." He believes that, of the 13,000 community based organizations that provide health service to women, Planned Parent should not get a penny from the government.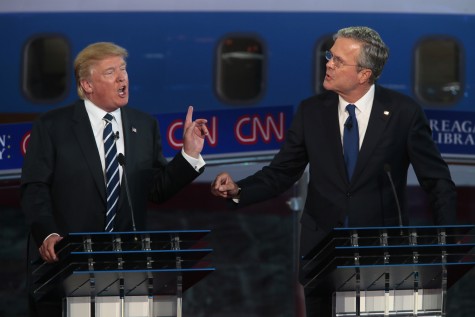 Immigration has taken over the political agendas of politicians across the world. In the GOP debate, the candidates touched on the topic explaining what they would do about immigration in America and how they would do it. In the midst of the immigration questions, Donald Trump had a lot to say about Bush's policies. Trump went on to criticize Jeb Bush because of his ties to Mexico and refused to apologize to Jeb Bush's wife for making his statement.
.@THEHermanCain: Outsiders are rising in the polls b/c the American people see the others as part of the establishment -OTR #greta @FoxNews

— Greta Van Susteren (@greta) September 16, 2015
Eventually, one of the many candidates running for election will be chosen to face off the democratic nominee for the position of President of the United States. Even now, many of these GOP candidates even mentioned in the debate how they were willing to face off Hillary Clinton once they were nominated. Until then, the next GOP debate is scheduled to be in Boulder Colorado at the Coors Events Center on October 18 and the first of the Democratic National Debates will be on October 13 at the University of Nevada, Las Vegas. Be sure to tune in to these upcoming debates as long as you're not buried in piles of homework and upcoming tests.