AHN Girls React to New iPhone Headphones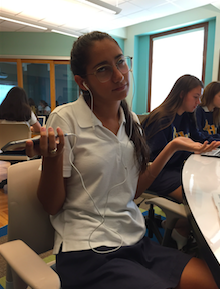 On September 7, the iPhone 7 was announced and Apple executives revealed a significant new feature. The company has discontinued use of the headphone jack, and has designed wireless earbuds.
These earbuds will need to be charged and will work by connecting to your phone's bluetooth. Their self-proclaimed "courageous" statement has sparked controversy, especially amongst people who rely on the headphone jack to play music in the car, at school, or whenever they may need it. AHN girls, who definitely enjoy listening to music while studying or driving, share their thoughts on Apple's big change.
Meredith Butler
Butler, a senior, was worried about Apple's decision at first but has now made her peace with Apple's decision to go wireless.
Lindsey Perez and Gabi Jordan
The junior duo are both disappointed in the loss of the headphone jack and what it may mean for their car rides.
Besides the need for extra space for upgraded technology, Apple removed the headphone jack to keep up with the ever changing tech world as they strive to achieve a wireless standard.
Nina Perez
Perez, sophomore, is impartial but admits she'll still probably be purchasing one.
Sarah Munera
Freshman Munera is excited for the new changes Apple is bringing with its new iPhone 7.
the iPhone 7 starts at $649 and the 'airpod' headphones are sold for an additional $159 pic.twitter.com/M5gOwDAWn7

— Common White Girl (@girlposts) September 8, 2016
While everyone is still shocked over the loss of the headphone jack and what it may mean for their music playing, it seems that people are slowly coming around to the idea of a new, wireless era.