Tropical Storm Hermine Strikes the Sunshine State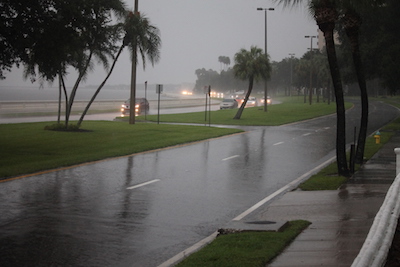 From August 31 to September 2, Tropical Storm Hermine roared across the Florida Gulf Coast and threatened to destroy anything in its path. Many Florida residents are accustomed to the bipolar weather and expected Hermine to just be another thundershower. However, what may have seemed to just be a harmless downpour was actually a life- threatening tropical storm. 
Tropical Storm Hermine began as Tropical Depression Nine. Tropical depressions form over warm water in moist climates at 80 degrees or higher. A tropical depression produces a wind flow with maximum sustained winds below 39 mph. When the wind circulation exceeds that quota, a tropical depression is upgraded to a tropical storm. Tropical storms generate gusty winds between 39 and 74 mph. Once the maximum sustained winds increase anywhere from 74 mph to 95 mph, the storm advances to a Category One hurricane with minimal damage potential.
Tropical depression 9 lingered in the Gulf of Mexico for a few days before it increased to a tropical storm and was named Hermine. Hermine then gained hurricane strength before hitting landfall in Florida with 80 mph winds.
On August 31, Tropical Storm Hermine struck the Florida Gulf Coast and posed a serious problem to all citizens, especially drivers.
BREAKING NEWS: Sunshine Skyway closed because of high winds #Hermine https://t.co/OgNClvZEBC @SteveG717 pic.twitter.com/blOFQKpaBG

— Tampa Bay Times (@TB_Times) September 1, 2016
Senior Shannon Flaharty states, "I live in Clearwater, so I had to drive over the bridge. It was scary driving over it because the rain was coming down so hard on my windshield."
Later that same day, Governor Rick Scott declared 51 counties in the state of the Florida under a state of emergency, one county being Hillsborough County. In response, Hillsborough County closed all schools, government offices, district offices, and Bayshore Boulevard for the following day because of the flooding.
For Academy girls, the natural disaster was seen as a blessing; no school on Thursday or Friday meant a prolonged Labor Day weekend.
Junior Haley Hemmings mentions, "I was so happy that Tropical Storm Hermine happened. It was like a mini summer. I'm glad I had the opportunity to spend more time with my family and friends."
#Hermine even looks like a hurricane now. There's the beginnings of an eye. pic.twitter.com/wawBmSgV8O

— Sean Breslin (@Sean_Breslin) September 1, 2016
On September 1, Hermine was named a Category 1 hurricane, which ended the record-setting hurricane drought for Florida. The most recent hurricane to make landfall in Florida before Hermine was Wilma 11 years ago.
The heavy rains called for potential life-threatening floods and flash floods along the Gulf Coast. Lake Tarpon Canal, near the Tampa Bay area, experienced 22.36 inches of rainfall and Baskin had 18.89 inches. Yet, the hurricane swung into full force near the Panhandle which eventually flooded homes, destroyed buildings, and took down power lines.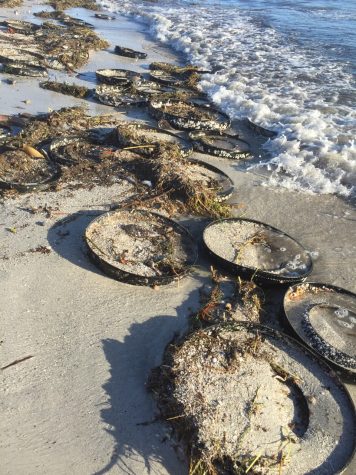 Katie Jones, a sophomore, remarks, "The water in our backyard raised so high that it flooded our dock; there was also a lot of debris so we couldn't go boating that weekend."
Hermine was degraded to a tropical storm on September 2 when the wind speeds dropped to 50 mph as it moved over land. Yet, with its heavy rains and gusts which left an estimated amount of 325,000 Floridians without power, Hermine still proved to be dangerous and powerful.
Below are tips on how to survive a hurricane or a tropical storm.
1. Stay away from the coastline or any open water.
2. Hide in a room without windows, preferably on the bottom floor. Keep curtains and blinds closed, shut all doors, board up all the windows in the house before hiding out.
3. Stock up on emergency necessities such as shoes, water, first- aid kits, and food.
4. Stay informed by watching the Weather Channel, monitoring the internet, or listening to the radio.