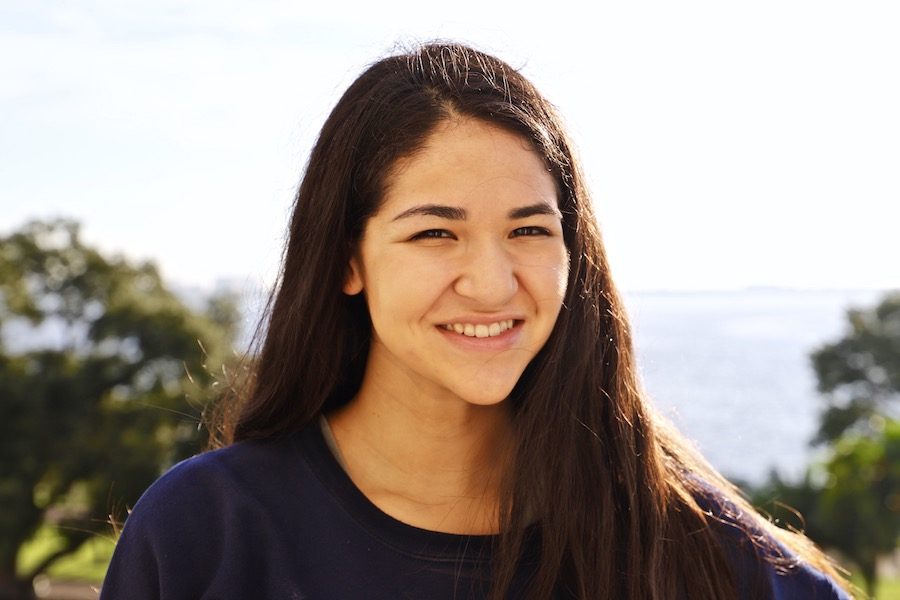 Isabella Thorpe is a third-year Senior Staff Writer for Achona. She has been a part of Ambassadors (going on three years) and is currently serving as the club's President. She enjoys watching
Netflix,
while she doesn't watch many tv shows, you can always find her watching the newest stand up comedy special.
She begins everyday by writing down her dreams in her dream journal, looking over The Skimm, and reading her daily horoscope. With a passion in journalism, Thorpe hopes to attend school in either Boston or Chicago, and later become a Investigative Reporter. You can always find Thorpe at either Kahwa or Buddy Brew, fueling her coffee addiction.
Isabella Thorpe, Senior Staff Writer
May 06, 2019

Acknowledging Sexism in the Real World (Class of '19)

(Story)

Apr 24, 2019

73 Questions: Jefferson Scholarship Recipient Katie Taulbee

(Story)

Mar 27, 2019

20 Traditions of the Dominican Republic Mission Trip to Commemorate its 20th Anniversary

(Story)

Mar 27, 2019

Music Streamers Define New Wave of Music

(Story)

Mar 05, 2019

Actor Jussie Smollett Faces Charges Following Alleged False Police Report

(Story)

Feb 27, 2019

Hamilton Comes To Tampa Bay

(Story)

Feb 13, 2019

Students Perform in the 2019 Academy Awards-AHN's Talent Show

(Story)

Feb 05, 2019

Best Dressed at Junior Ring 2019

(Story)

Jan 22, 2019

Noname Performs at The Ritz

(Story)

Jan 15, 2019

Millennials Named "The Burnout Generation"… What Does this Say About Gen Z?

(Story)

Dec 10, 2018

AHN Varsity Soccer Team Defeats Tampa Catholic With A 7-1 Win

(Story)

Dec 03, 2018

Trace of E. coli Virus Links to Romaine Lettuce from California

(Story)

Nov 27, 2018

Class of 2022 Gathers for Freshman Retreat

(Story)

Nov 08, 2018

Florida Participates in 2018 Midterm Elections

(Story)

Oct 31, 2018

Paige Rodriguez Draws Her Life

(Story)

Oct 22, 2018

Teens for Haiti: "Dance for Haiti" comes back to Academy

(Story)

Oct 03, 2018

Let's Taco 'Bout It: Best of the Bayshore (VIDEO)

(Story)

Oct 01, 2018

FDA and Schools Crack Down on Juul "Epidemic"

(Story)

Sep 20, 2018

Hurricane Florence Slams the Carolinas

(Story)

Sep 14, 2018

"I Know What You Made Last Summer" Art Exhibit Opens

(Story)

Sep 01, 2018

Class of 2019 Kicks Off Series to Live Out Their Pledges to Underclassmen

(Story)

Aug 24, 2018

"Crazy Rich Asians" Challenges Misrepresentation of Asian Americans Onscreen

(Story)

Nov 28, 2017

Behind the Scenes: Shadow Days

(Story)

May 19, 2017

Geometry Honors Students Construct Downtown Tampa Models As Their Final Exam Projects

(Story)

May 15, 2017

Seniors Sip and Recollect at Annual Silver Coffee

(Story)

May 04, 2017

Academy Crew Team Competes at Sweeping States Championship

(Story)

Apr 27, 2017

Festivities and Simple Ways to Celebrate Earth Day

(Story)

Apr 18, 2017

The Significance of Spreading Positivity Behind the Screens: Social Media

(Story)

Mar 29, 2017

AHNRC Travels South for the Miami International Regatta

(Story)

Mar 22, 2017

Generation Y Is Consumed By FOMO: Experiencing and Handling It

(Story)

Mar 08, 2017

The Annual Process of Course Selections Returns

(Story)

Feb 23, 2017

HOA: Isabel Laboy Lives According to the "Girl Scout Law"

(Story)

Feb 13, 2017

Mother-Daughter Power Teams Share the Qualities of a Strong Relationship

(Story)

Feb 02, 2017

Harry Potter Houses: Teacher Edition

(Story)

Jan 25, 2017

Lady Gaga Excites Her Fans with Super Bowl Halftime Show

(Story)

Jan 19, 2017

Actress Leah Remini Exposes Scientology

(Story)

Jan 10, 2017

Ronda Rousey Comes Out of Hiding and Returns to the UFC

(Story)

Dec 05, 2016

Academy Girls Taking L's

(Story)

Nov 14, 2016

2016 Dance for Haiti

(Story)

Nov 04, 2016

How Achieve More Zzzz's!

(Story)

Oct 30, 2016

AHN Rowing Club Races at the Halloween Regatta

(Story)

Oct 24, 2016

Class of 2019 Sophomore Retreat

(Story)

Oct 17, 2016

73 Questions With Mr. Jose Ruano

(Story)

Oct 03, 2016

Inside the Morning Show

(Story)

Sep 23, 2016

5 Places to See Before They Disappear

(Story)

Sep 19, 2016

MidFlorida Credit Union Amphitheater vs. Amalie Arena

(Story)

Sep 09, 2016

Tropical Storm Hermine Strikes the Sunshine State

(Story)

Sep 02, 2016

5 Female Olympians Who Rocked The Rio Games

(Story)