Athletes use fame for those who will never be famous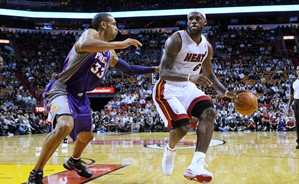 MIAMI — Udonis Haslem began giving back to his hometown in small ways, first by donating Thanksgiving turkeys to his mother's church, then by providing financial and emotional support to the two children of a friend who died.
Today, eight years into his career as a Miami Heat basketball player, Haslem oversees his own charitable foundation and recently hosted his sixth annual gala to raise money for South Florida children.
"All athletes remember somebody who helped them along the way," Haslem said. "My philosophy is, every kid deserves a chance. I want to make a difference in their
lives."
Haslem's commitment is part of a growing trend among athletes who have embraced the opportunity to use their fame on behalf of those who will never be famous. The increased emphasis on sports philanthropy isn't just the right thing to do, but the smart thing, say experts who advise athletes and teams on the altruistic and financial benefits of charity, such as bonding with fans, generating positive publicity, raising their brand profile and earning tax breaks.
"A foundation is a status symbol for an athlete these days," said Marc Pollick, founder of the Giving Back Fund for celebrity philanthropists. "A team that is really giving is more beloved and supported by the community."
Pollick cited the examples of Andre Agassi and Lance Armstrong, who have converted their competitive energy into raising money for their favorite causes — education for Agassi, cancer research for Armstrong.
"There's been a proliferation in the number of pro leagues, teams and athletes who make service a priority," said Ivan Blumberg, a former sports agent who is CEO of Athletes For Hope.
LeBron James and Chris Bosh, who joined Dwyane Wade to create the most dazzling threesome in the NBA, plan to bring more than a title to South Florida. Both say they intend to put down roots, get involved and share their wealth and influence.
James has been a longtime supporter of the Boys and Girls Clubs, especially in his hometown of Akron, Ohio. In fact, he said the main reason he went on TV for his much-maligned Decision, during which he announced he was leaving Cleveland for Miami, was to raise $3 million for the organization.
"I could have done it with better execution, maybe, but it was for a great cause," said James.
"I grew up in the inner city and I know how bad it was for me, so it is important for me to be an inspiration to others."
Bosh would like to lend a hand to children's charities, which is the choice of 90 percent of his athlete clients, Pollick said.
The Heat hopes to capitalize on the excitement surrounding the team to sign up more donors and corporate partners for the foundations it supports. Since 1997, the Heat has given $13 million to South Florida organizations, including Safe Space, Jackson Memorial Hospital, the Miami Coalition for a Safe and Drug Free Community and Project Medishare, according to Steve Stowe, executive director of the Heat Charitable Fund. Pat Riley recently created HomeStrong, an appreciation fund for returning soldiers.
Marlins catcher John Baker, the team's nominee for Major League Baseball's Roberto Clemente Award, said devotion to community service was instilled in him by his parents, who required their children to work at a homeless shelter every Christmas, "so we could see how many people never get Christmas presents or Christmas dinner," Baker said.
During the past year, Baker visited soldiers in Iraq and Kuwait and homeless people in Haiti. Those experiences inspired him to give support to the Stand Down House for veterans and Homes for Haiti.
Athletes can be most useful if they join forces with established organizations rather than attempt to create their own foundations, Baker said. "People have a misconception that all athletes are in the Derek Jeter category, able to afford $20 million condos," Baker said.
Nor do athletes have the management skills or legal knowledge to operate a foundation efficiently, said Pollick and Blumberg, who have seen plenty of foundations waste hard-earned money or get shut down by the IRS.
"In all other aspects of their lives, athletes are hiring top professionals, but for the foundation they give jobs to their friends from the 'hood or their mom or their French poodle," Pollick said. "If a foundation isn't run properly, it damages your brand."
Fundraising events, including the ever-popular golf tournament, are usually money pits, Pollick said, "fundraisers without the 'd' because the athlete brings in friends and puts them up first class."
The Giving Back Fund has started about 100 foundations for celebrities, managing the grant-making and tax compliance responsibilities so that "95 cents goes to charity and five cents goes to overhead instead of the other way around," Pollick said.
New client Jonathan Vilma, a New Orleans linebacker, wants to build schools in Haiti. But running a successful foundation isn't a slam dunk. Even Michael Jordan's foundation imploded in the mid 1990s. Pollick said less than 10 athlete foundations can count $1 million in the bank.
Athletes for Hope, founded in 2006 by Agassi, Armstrong and Mia Hamm, and now affiliated with 1,000 athletes in 20 leagues, matches athletes with causes and conducts workshops on community service.
In 96 percent of celebrity foundations, the celebrity does not contribute any money, Pollick estimates — in part because they're used to getting everything for free, whether it's from restaurant owners or shoe companies.
"We've been trying to change the culture of celebrity philanthropy to make it more authentic," he said. "We require our clients to make a meaningful gift so they can look the public in the eye when they ask for checks."
Athletes can also be leaders in the diversification of philanthropy.
"The average philanthropist is a 65-year-old white male," Pollick said. "What he gives to is very different from a 25-year-old black male. Plus the young man has 50 more years to be a donor."
A personal connection is crucial, otherwise athletes are performing service as a means of image enhancement, James said.
"It's only cool if you're passionate about it," James said. "Every athlete should not be pressured to do it. I don't do it for the praise or to get in the newspaper. I do it for the smiles of the kids who know they have a future."
———
(c) 2010, The Miami Herald.
Visit The Miami Herald Web edition on the World Wide Web at http://www.herald.com/.
Distributed by McClatchy-Tribune Information Services.